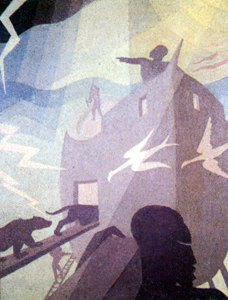 Aaron Douglas, African American artist and professor at Fisk University, was born in small-town eastern Kansas and displayed an early aptitude for drawing. His mother recognized his talent and supported his pursuit of an art career. Douglas attended high school in Topeka and went to the University of Nebraska, where he pursued a liberal arts curriculum that included drawing, painting, and art history. During World War I he spent one semester in a Student Army Training Camp, where he painted a portrait of General John J. Pershing. When he returned to college, he studied drawing under Blanche O. Grant, later a prominent member of the Taos, New Mexico, art colony. As a senior, Douglas received a prize for excellence in drawing. He graduated from Nebraska in 1922 and the following year also earned a B.F.A. degree from the University of Kansas.
After a year of teaching at Lincoln High School in Topeka, Douglas, on the advice of friends, moved to New York City at the height of the Harlem Renaissance, a time of extraordinary creative ferment among African American artists. His work came to the attention of Charles S. Johnson, a sociologist and editor of the Urban League publication Opportunity. Through him, Douglas met Bavarian-born painter Winold Reiss and became the artist's prize student. Through Reiss, Douglas was exposed to the Vienna Secession Movement, the bold colors and forms of German Expressionism, and the abstractions of African art. Reiss encouraged Douglas to take up mural painting and explore his own cultural background for themes and subjects. The young artist studied at the Pennsylvania art school of famed collector Albert Barnes and at the Academie de la Grande Chaumiere and the Academie Scandinave in Paris.
Douglas's association with Fisk University dates from 1930, when he was commissioned to create a set of murals for the Cravath Memorial Library. In 1939 Douglas accepted a part-time teaching position while he completed a master's degree at Teacher's College, Columbia University. In 1944 he became a professor of art at Fisk and later chaired the department before retiring in 1966.
The themes in Douglas's art underscored the contributions of African Americans to every aspect of American cultural life. In 1971, when national attention was once again focused on him by a retrospective exhibition of his paintings, artist and art historian David Driskell noted that "Douglas continues to tower over young and old artists in that he planted his feet on solid ground at a time when it was unpopular to dignify the image of the Black man." (1) He exerted a profound and lasting influence on the work of younger African American artists.
After 1928 Douglas's work was widely exhibited. In addition to his murals at Fisk, he executed murals for the Harlem YMCA, the Countee Cullen Branch of the New York Public Library, the Sherman Hotel's College Inn ballroom in Chicago, and Bennett College in Greensboro, North Carolina. Most major museum collections and many private collectors own his works.
Suggested Reading
Amy H. Kirschke, Aaron Douglas: Art, Race, and the Harlem Renaissance (1995)