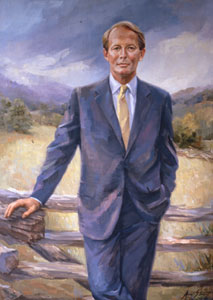 Lamar Alexander, governor, university president, and U.S. secretary of education, was born on July 3, 1940, in Blount County. His parents were teachers in Maryville, and Alexander attended public schools there. Active in the Boy Scouts as a youngster, Alexander was awarded the rank of Eagle Scout, the highest scouting honor. In 1962 he completed his undergraduate degree, graduating Phi Beta Kappa from Vanderbilt University. Three years later, in 1965, Alexander received his law degree at New York University. In addition, Alexander has received honorary doctorates from schools across the nation, including Christian Brothers University, Cumberland University, the University of the South, and Tusculum College in Tennessee.
Alexander began his law career as a clerk to Judge John M. Wisdom of the U.S. Fifth Circuit Court in 1965; within two years his political career was underway, as he became a legislative assistant to Republican U.S. Senator Howard Baker in 1967. After Richard M. Nixon's election as president, Alexander was appointed an executive aide to Bryce Harlow, the White House congressional liaison.
In 1970 Alexander's successful management of the gubernatorial campaign of Winfield Dunn, the first Republican governor in fifty years, propelled him to the forefront of the Tennessee Republican Party. That year he also was one of the founding partners of the Dearborn and Ewing law firm in Nashville. Alexander's first attempt to win the governor's chair failed in 1974, as Democrats statewide, including gubernatorial nominee Ray Blanton, swept to power in the wake of the Watergate scandal. But four years later Alexander waged a determined campaign highlighted by a walk across Tennessee–a journey of 1,022 miles–during which he wore a red-checked flannel shirt. His quest for the governor's office was successful, and the red-checked shirt became his trademark.
At the request of the U.S. attorney, Alexander was sworn in as governor three days early, on January 17, 1979, in reaction to the possibility that Governor Ray Blanton would grant clemency to prisoners who, according to state and federal officials, had paid bribes for the expressed purpose of gaining executive pardons. Despite this controversial beginning, Alexander enjoyed several achievements during his two terms in office from 1979 to 1987. It was a time of economic growth and expansion of incomes in Tennessee. Thousands of new jobs were created in the automobile industry with the opening of the Nissan factory in Smyrna, and more were promised with the announcement of the Saturn plant at Spring Hill. He introduced a master teachers program and a Better Schools program to improve public education. For higher education, Alexander introduced a system of Centers of Excellence and Chairs of Excellence to enhance research and public service at the public universities. Alexander also supported the creation of a Tennessee Parkway system to improve highway transportation and enhance the state's expanding tourism industry. His Tennessee Homecoming '86 program was extremely popular, as 812 communities across Tennessee launched special projects and publications about state and local heritage. Spurred by federal court decisions mandating change, Alexander also addressed the state's antiquated corrections system and began a massive prison construction program.
The first Tennessee governor to serve consecutive four-year terms of office, Alexander also served as chair of the National Governors' Association and chair of the Southern Regional Education Board and was chosen "Conservationist of the Year" by the Tennessee Conservation League during his tenure. The success of Alexander's two terms solidified the Republican Party's role in state politics. As historian Dewey Grantham observed, "[T]he election of Lamar Alexander as governor in 1978 and his reelection four years later demonstrated that, with able and attractive candidates, Tennessee Republicans could win the top state offices as well as presidential contests." (1)
After returning to private life in 1987, Alexander continued to pursue his goal of improving education in America. He was chair of the Leadership Institute at Belmont University in 1987-88 and then, from 1988 to 1991, he served as president of the University of Tennessee. There he established the institution's first full-year scholarship program and developed a new five-year comprehensive plan for the university system.
In 1991 President George Bush appointed Alexander U.S. secretary of education. As secretary Alexander initiated and supported administration policy to set voluntary National Education Standards, to prohibit race-based scholarships at colleges and universities, and to implement America 2000, a program to achieve national educational goals as established by President Bush and the nation's governors.
After Bush's defeat in 1992, Alexander returned to Tennessee and was a counsel at the law firm of Baker, Donelson, Bearman and Caldwell from 1993 to 1995. He remained active in national Republican Party activities as chair of the Republican Exchange Satellite Network from 1993 to 1995 and as a Senior Fellow at the Hudson Institute from 1994 to 1995. On February 28, 1995, he launched a national campaign for the Republican presidential nomination but withdrew in the spring of 1996 after faring poorly in the early primaries.
Alexander has written several books including Steps Along the Way (1986), and he and his wife Leslee "Honey" Alexander have four children, Andrew, Leslee, Kathryn, and William. An attorney, writer, and Republican Party leader, Alexander presently lives in Nashville.