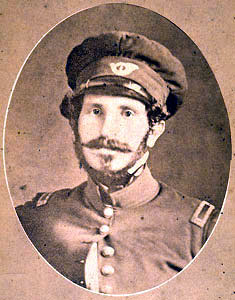 Adolphus Heiman, engineer, stonecutter, and architect, was born in Potsdam, Prussia. Trained as a stonecutter, Heiman came to the United States in 1834. He was in Nashville perhaps as early as 1837. Heiman worked in Nashville from his arrival until the eve of the Civil War in 1860. In his commissions for churches, government buildings, private homes, schools, and other community landmark buildings, Heiman incorporated the Gothic Revival, Greek Revival, and Italianate styles.
Although little is known about Heiman's work in Nashville from 1837 to 1846, he designed at least part of the First Baptist Church (1837-41) on Fifth Avenue. Like so many of Heiman's designs, this building has been demolished (in 1940). By 1841 Heiman had his own business and was one of four Nashville architects listed in the December 20, 1845 issue of the Orthopolitan. He designed tombstones, several of which are at the Old City Cemetery in Nashville, and was a local engineer and builder.
Heiman's architectural career took off in the late 1840s, after he returned from the Mexican War as a hero. He had been promoted to the rank of major after surviving a raid on Monterey in which two-thirds of his regiment was killed.
Heiman soon became a popular choice for designing community landmark buildings. One of his first major commissions came in 1849, when he was selected to build a 250-bed state Hospital for the Insane. The building incorporated the most modern innovations, including steam heat. Completed in 1855, the Gothic Revival-style hospital was one of the most inventive public buildings in the country.
Other Nashville buildings designed by Heiman included the Cathedral of Our Lady of the Seven Dolors (today known as St. Mary's Catholic Church) in the Greek Revival style; the now demolished Italianate-style Adelphi Theater; the Greek Revival-style Medical Department and the Gothic Revival-style Literary Department at the University of Nashville; and the Italianate-style Belmont Mansion as well as several other homes. Heiman also designed buildings in other cities, including the Giles County Courthouse in Tennessee; St. John's College in Little Rock and the Arkansas Masonic School; and the First Presbyterian Church in Huntsville, Alabama. He also gained a reputation as a bridge engineer in the 1850s and designed the first suspension bridge in Tennessee over the Cumberland River.
Heiman's career ended abruptly with the Civil War. A colonel in the Tenth Tennessee Regiment, he was captured in 1862 and was a prisoner of war for six months. He died in Jackson, Mississippi, in 1862; his remains were reinterred in the Confederate Circle of Mt. Olivet Cemetery in Nashville in 1869.
Suggested Reading
John G. Frank, "Adolphus Heiman: Architect and Soldier," Tennessee Historical Quarterly 5 (1946): 35-57; James Patrick, "The Architecture of Adolphus Heiman, Parts 1 and 2," Tennessee Historical Quarterly 37 (1979): 167-87, 277-95