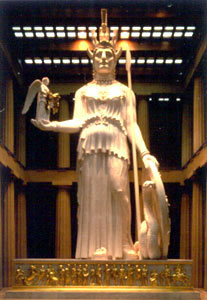 Alan LeQuire, the creator of the monumental Athena Parthenos for the Parthenon in Nashville, is one of Tennessee's most accomplished sculptors. He is best known for his public commissions such as the life-size bronze sculptures at Blair School of Music and near Kirkland Hall at Vanderbilt University. A handsome, heroic bronze of Timothe DeMontbrun, French fur trapper and an early Nashville inhabitant, was completed in 1996 and now stands on the west bank of the Cumberland River. Tennessee's Vietnam Veteran's Memorial, a well-composed grouping of three figures in action, is located on War Memorial Plaza in downtown Nashville. In progress are two monuments to the Woman Suffrage Movement, and for downtown Knoxville, he is creating a sculptural group featuring life-size portraits of Elizabeth Meriwether (Memphis), Anne Dudley (Nashville), and Lizzie Crozier French (Knoxville) to be installed in a downtown park. In Nashville, a large bronze relief for the State Capitol will commemorate the passage of the Nineteenth Amendment in 1920.
LeQuire is also an accomplished portrait artist whose commissioned pieces are most often portraits of individuals. At times, he also must become a historian. His research on Athena (for which there is no existing model), DeMontbrun, the conflict in Vietnam, and the Woman Suffrage Movement in Tennessee contributed to the interpretation of these historical subjects. LeQuire has stated that by representing the human figure, his pieces must consider humanity and its relationship to the past. The ideas behind the work emerge from what LeQuire perceives as the collective cultural history. The forms themselves reconnect us to the noble figurative tradition in art, which continues unbroken to the present. LeQuire sees the central mystery of sculpture as bringing life to the inanimate and having the viewer recognize in the piece the power of another human soul.
LeQuire was raised in Nashville. His father is retired from the Vanderbilt University School of Medicine, where he served on the faculty as a physician and researcher. His mother is a painter, art teacher, and writer. LeQuire's interest in three-dimensional form early on took precedence over other inclinations. While an undergraduate at Vanderbilt University, he studied independently under professor of sculpture Puryear Mims and Middle Tennessee State University sculptor Jim Gibson. He spent his senior year in France, studied art history, and earned a degree in English. After a year in Rome learning bronze casting as an assistant to New York artist Milton Hebald, LeQuire entered the University of North Carolina at Greensboro, where he earned a Master of Fine Arts degree. He won the commission for Athena Parthenos in 1982, was a Tennessee Arts Commission Fellow in 1986, and received a Tennessee Governor's Citation in 1987. In 1990 he was awarded an American Institute of Architects Design Award for Athena Parthenos.