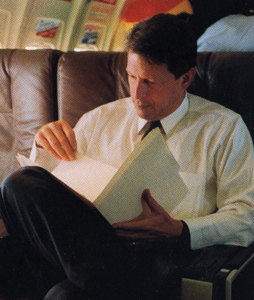 Albert A. Gore Jr., forty-fifth vice-president of the United States, was born on March 31, 1948 to former congressman and U.S. senator Albert A. Gore and Pauline LaFon Gore. He attended St. Albans Episcopal School for Boys in Washington, D.C., and graduated with honors from Harvard University in 1969. Gore subsequently volunteered for service in the U.S. Army and saw duty in Vietnam.
As a young person, Gore seemed destined for and was apparently preparing for a career in public service. He was, however, greatly disillusioned by Tennessee voters' rejection of his father's attempt for a fourth Senate term in 1970. Following his discharge from the army, Gore took employment in Nashville as a newspaper reporter at the Tennessean and enrolled in law and divinity classes at Vanderbilt University.
At the Tennessean, Gore demonstrated characteristics that many have identified with his subsequent career in elected office. John Seigenthaler, then editor of the newspaper, recalls that Gore was equally thorough and serious in his approach to assignments whether on the police beat, covering country music, or exposing major corruption in local government. During his years as a reporter, Gore's appreciation for public service slowly revived as he covered public policy issues that frequently brought him into contact with public officials at all levels of government. Although he passed up an opportunity to run for Congress from the Sixth District in 1972, by 1976, following the announcement that Congressman Joe L. Evins would not seek reelection, Gore enthusiastically jumped into a crowded field and emerged with the Democratic nomination. In November he was elected by a comfortable margin. Following four terms in the House of Representatives, Gore challenged for, and was elected to, the United States Senate.
In the House and Senate, Gore became particularly well versed on scientific and technological issues, ranging from genetic engineering to nuclear arms control. He strongly identified with environmental issues and in 1992 chaired the U.S. delegation to the Earth Summit in Rio de Janeiro, Brazil. He also outlined a plan for an international approach to dealing with environmental issues in his best-selling book, Earth in the Balance: Ecology and the Human Spirit.
In 1988 Gore unsuccessfully sought the Democratic Party nomination for United States president. Two years later, Tennessee voters awarded him a second term in the U.S. Senate, shattering modern precedent by giving him winning margins in all ninety-five counties.
On July 9, 1992, Democratic Party presidential nominee Bill Clinton chose Gore to be his running mate. Successful in the November elections, they were inaugurated president and vice-president of the United States in January 1993 and were reelected in 1996. Gore's influence and responsibilities as vice-president were broad and significant. During the second term many members of his staff were assigned primary responsibility for promotion and administration of Clinton administration programs.
As vice-president, Gore continued to emphasize public policies pertaining to enhancement of society through appropriate utilization of science and technology. He had introduced the concept of the "information superhighway" into the public debate many years earlier and, as a senator, had been the prime force behind the High Performance Computing Act. Vice-President Gore led in the development of the National Information Infrastructure, the Global Information Infrastructure, and other initiatives to enhance electronic communication. He continued his commitment to environmental issues, particularly in the areas of greenhouse gas emissions, national wetlands policy, and development of fuel efficient vehicles.
Consistent with the traditions of Albert Gore Sr. and Cordell Hull, Gore staunchly supported free trade, especially the North American Free Trade Alliance (NAFTA). He also was responsible for developing procedures to reduce the size of the national bureaucracy. In 2000 Gore launched another campaign for the presidency; he easily won the Democratic nomination. But in one of the closest presidential elections in American history, Gore won the popular vote but lost the presidency in the Electoral College to George W. Bush of Texas.
Gore is married to Mary Elizabeth "Tipper" Aitcheson, whom he met while still enrolled at St. Albans. They have four children: Karenna, Kristin, Sarah, and Albert III. Both Vice-President and Mrs. Gore have been highly visible in addressing issues identified with children and families. In her best-selling book, Raising PG Kids in an X-Rated Society, Tipper Gore addressed the impact of the entertainment industry on the development of personal and social values in children. Vice-President Gore is focused on the role of fathers in modern society and each year has hosted a high profile conference to address different issues pertaining to that role. In 2001 Gore began teaching an innovative course on community building at several different institutions including Middle Tennessee State University, Fisk University, and Columbia State Community College.
The Gores own a small farm near Carthage and attend the New Salem Missionary Church there.