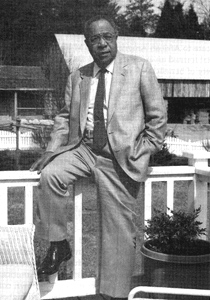 Alex Haley State Historic Site
The Alex Haley State Historic Site is located at 200 South Church Street in Henning, Lauderdale County. This one-and-one-half story weatherboard bungalow was the house of Alex Haley's grandfather, Will Palmer, who operated a respected and profitable lumber business and mill in Henning. In 1918-19 Palmer and his wife Cynthia built the ten-room house, complete with music room and library, that rated among the most modern and fashionable residences in this rural town. Two years later, in 1921, their daughter Bertha Palmer Haley brought her baby son Alex back home to Henning to stay with her parents while her husband, Simon Haley, pursued graduate studies at Cornell. Haley lived here from 1921 to 1929 and afterward visited the home during many summers. As he later recounted in his popular book Roots: The Saga of an American Family (1976) and in many interviews, his Grandmother Palmer was an immense influence on his telling of the family history, especially through her colorful and compelling stories of past, but not forgotten, family members.
Haley heard those stories and began to develop his own sense of imagination and place while living at this bungalow dwelling. His writings and lectures inspired millions to search for their family history and to learn how their families have played a role in the drama of the American past. The Alex Haley Boyhood Home was listed in the National Register of Historic Places in 1978 and was opened as the first state historic site devoted to African American history later that decade. After his death in 1992, Haley was buried in the front yard of the boyhood home he recalled so fondly.