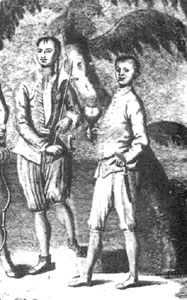 Attakullakulla was a powerful eighteenth-century Overhill Cherokee leader who played a critical and decisive role in shaping diplomatic, trade, and military relationships with the British Colonial governments of South Carolina and Virginia for over fifty years. He effectively led and acted as the primary spokesman for the Overhill Cherokees in the 1750s and 1760s, although apparently he never attained the official title of Uko, or foremost chief, within Cherokee society. He was probably born in the early 1700s, most likely along the French Broad River. In 1730 he was one of seven Cherokees who accompanied Sir Alexander Cumming to England. From about 1743 to 1748 Attakullakulla resided as captive among the Ottawas of eastern Canada, where he was afforded considerable freedom and became well regarded among the French.
He returned to the Overhill country about 1750 and quickly became second in authority to Connecorte, or Old Hop, the Uko at Chota, who was probably his uncle. By this time, whites knew Attakullakulla as Little Carpenter. Popular stories attributed his name to his ability to construct amicable relationships with whites, but it more likely referred to his small stature and to his woodworking skills. James Mooney suggested the derivation of Attakullakulla from the words for "wood" and for "something long leaning against another object."
In the 1750s Attakullakulla negotiated repeatedly with the Virginia and South Carolina Colonies as well as the French and British traders in the Ohio Valley to improve the abundance and availability of trade goods to the Cherokees. He also argued for increased colonial military presence in the Overhill villages, which led to the construction of the Virginia Fort and Fort Loudoun near the Overhill villages in 1756. In 1759 Chief Oconastota and twenty-eight of his followers were taken hostage at Fort Prince George as the result of misunderstandings concerning a joint military action with the British against the French. Although Attakullakulla secured Oconastota's release, some of the hostages were killed; the Cherokees retaliated with the siege of Fort Loudoun. Attakullakulla worked to prevent an escalation of violence. Placing himself at great personal risk, he managed to save John Stuart from massacre along with most of the Fort's garrison. Stuart was subsequently appointed superintendent of Indian affairs south of the Ohio.
Attakullakulla remained an active leader and negotiator for the Cherokees into the 1770s. When American Revolutionary forces under the command of William Christian occupied the Overhill villages in 1776, Attakullakulla arranged for their withdrawal and played a leading role in the 1777 peace negotiated at Long Island on the Holston. His influence diminished as Dragging Canoe, his son, and other young leaders continued Cherokee resistance to the Americans. Sometime between 1780 and 1785 Attakullakulla died.
Suggested Reading
David Cockran, The Cherokee Frontier: Conflict and Survival, 1740-1762 (1962); James C. Kelly, "Notable Persons in Cherokee History: Attakullakulla," Journal of Cherokee Studies 3 (1): 2-34