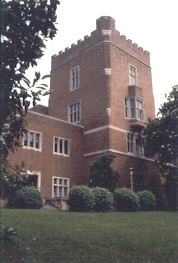 Barber & McMurry Architects
The Knoxville-based architectural firm Barber & McMurry designed landmark residential, civic, and commercial buildings in Knoxville and across the Southeast during the twentieth century. In 1915 Charles Irving Barber joined his cousin, D. West Barber, and Ben McMurry to form the firm. Their strengths complemented each other as Charles Barber was the principal designer, McMurry operated as the business manager, and West Barber took charge of the production of working drawings.
Charles Barber's interest in architecture may have originated with his father, George Franklin Barber, who was also an architect. The elder Barber moved to Knoxville in 1888 from Illinois and quickly established his practice. By the early 1900s George Barber's firm was the largest in Knoxville, employing approximately thirty draftsmen and twenty secretaries. In conjunction with his architectural practice, George Barber started the American Home Publishing Company to distribute his house designs in the form of pattern books and mail-order catalogs for house kits. He designed in a variety of styles, and Barber houses were built in every state and overseas. Many of his houses are now on the National Register of Historic Places. When George Barber died in 1915, his successful firm was absorbed by the fledgling firm, Barber & McMurry.
Aside from experience in his father's office, Charles Barber's education involved a three-month grand tour of Europe in the summer of 1907 to study architecture in Italy and Greece. In 1909 he enrolled at the University of Pennsylvania to gain a Certificate of Proficiency in Architecture. While at the university he studied under Paul Cret, a French architect trained at the Ecole de Beaux Arts, and learned the tenets of the philosophy of the Beaux Arts. Ben McMurry and West Barber also enrolled in the same program and graduated shortly after Charles Barber. All three men worked in various architectural firms before they formed their successful partnership.
Charles Barber's residential designs drew on historical American and European prototypes, incorporating Beaux Arts architectural elements on a functional layout of rooms. Designed to accommodate twentieth-century lifestyles and tastes, Barber's original designs, while respecting historic precedent, transcended it. Public and private areas were separated, and interior spaces flowed through French doors or picture windows to exterior terraces and landscaped gardens. Charles Lester, a local landscape architect, collaborated with Barber on many garden designs. Prominent houses in Knoxville designed by the firm include the Alex Bonnyman house (1916) on Kingston Pike, the Calvin Holmes house (1922) on Melrose Place, and the John Craig house (1926) on Westland Drive.
In addition to residential design, Barber & McMurry was known for its school and church designs. The firm designed, among others, Sequoyah Elementary School (1929) and the Maryville High School (1933). The Hoskins Library (1930) on the Knoxville campus of the University of Tennessee is an example of the stately campus Gothic style and was one of four projects the firm designed for the university in that year alone. During the 1940s and 1950s Barber & McMurry was recognized for its church designs. Knoxville's Church Street Methodist Church stands as one of its most distinguished works. Working in collaboration with the New York architect John Russell Pope, Charles Barber designed the neo-Gothic church that Franklin D. Roosevelt praised during a Knoxville visit.
Barber & McMurry was nationally recognized in both lay and professional journals. The entire June 1930 issue of Southern Architect and Building News was devoted to its work. In 1929 the firm won the Neel Reid Medal for a residence costing under twenty thousand dollars with their design for the Goforth house. Charles Barber extended his interest in affordable housing during the mid-1930s while he was chief architect of the Tennessee Valley Authority. During his tenure he designed low- and mid-cost housing for the Norris, Pickwick, and Wheeler Dam sites. In 1938 the Knoxville Small House Bureau published a brochure of small house designs, a number of which were the work of Barber & McMurry.
The last of the original three partners left the firm in 1969. In 1976 the Dulin Art Gallery held an exhibition of Barber & McMurry's work, focusing on the period 1915-40. Barber & McMurry has persisted as a leader in design in Tennessee and now focuses on larger scale projects such as the John J. Duncan Federal Office Building in Knoxville and numerous other civic, medical, and educational projects.