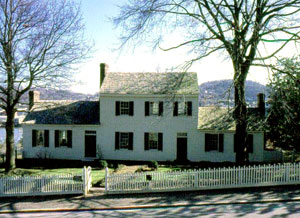 Knoxville's only National Historic Landmark, Blount Mansion was constructed between 1792 and 1830, with the first period of construction occurring between 1792 and 1796. As the home and office of William Blount, the governor of the Southwest Territory, Blount Mansion replaced Rocky Mount as the capitol of the Southwest Territory. In contrast to the surrounding log homes, Blount constructed a frame house to demonstrate his political and economic status in the community. His "mansion," the largest house in the area, was a traditional hall and parlor plan with two rooms on the first floor, a basement, and an attic sleeping loft. The Native American name, "the House With Many Glass Eyes," testified to the number of six-over-six glass windows on the front and rear elevations of the house.
After Blount's death in 1800, the house passed through his extended family and later became the home to prominent Knoxvillians such as Matthew McClung and James White and Knoxville mayors Matthew M. Gaines and Samuel B. Boyd. These and other owners made alterations to the house, dramatically changing its original appearance through the addition of a completed second floor, a west wing, an attached kitchen, and a front porch.
Blount Mansion faced destruction by the city of Knoxville to make room for a parking lot in the downtown area in 1925, but the Bonny Kate Chapter of the Daughters of the American Revolution purchased an option on the home and in 1926 chartered the Blount Mansion Association (BMA). The BMA removed the Victorian front porch and emphasized an interpretation of the house's significance in the territorial capital period of 1792-1800. Blount Mansion opened as a museum in 1930.
Since 1955 Blount Mansion has undergone many changes including the dismantling of later period buildings and additions, restoration of the Governor's Office, archaeological investigations, and paint and structural analyses. In a recent architectural analysis of the house, Michael Emrick and George T. Fore concluded that the house had experienced six distinct phases of construction and/or alteration and did not acquire its current overall form and size until the fourth phase, circa 1815-30. For the study of Tennessee architecture, it is "a more complex and interesting structure because of its phased construction." (1) Blount Mansion continues to preserve Knoxville's eighteenth-century history, and the restored office, gardens, and kitchen enhance the interpretation of this frontier capitol of Tennessee.