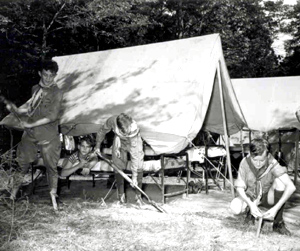 Boy Scouts of America, Tennessee
The Boy Scout program came to both the United States and Tennessee in 1910, only three years after General Robert Baden-Powell founded the program in Great Britain. In 1909 William Perry "Buck" Toms read an article on the scouting movement in Britain and sent two shillings to Baden-Powell for a copy of his book, Scouting for Boys. In 1910 Toms formed a Boy Scout organization in Knoxville, and the next year East Tennessee's Troop 1 received a formal charter from John Alexander and the New York City YMCA, which had assumed leadership of the American program.
In Brentwood the brothers Lawrence and John Hirsig read of the scout movement in the Literary Digest and approached their uncle, Curtis B. Haley, with a request to form a troop. In September 1910 Middle Tennessee's Troop 1 received its charter.
Scout troops appeared all across Tennessee and the United States during the 1910s and 1920s. In 1916 the Boy Scouts of America received a national charter from Congress, thanks in part to the efforts of Tennessee's Senator John K. Shields.
The scout program found its greatest acceptance in towns and cities rather than the rural areas. By 1915 Chattanooga had ten troops with over two hundred boys. Troops also were established in Memphis, Franklin, Bell Buckle, and Johnson City, among other towns and cities.
The Tennessee scouting program received a boost in February 1912, when Baden-Powell visited Nashville as part of an American tour. The general shared the stage with the governor at the Ryman Auditorium, which was filled with scouts and community leaders. At that meeting, Baden-Powell declared that "the central idea of the movement is to [get a boy] . . . back close to nature, so that when he comes to be fully grown he will have developed those sturdy qualities so necessary in true manhood." (1)
Though the scouting program has retained its focus on an appreciation of nature and an emphasis on the camping experience, the program has been revised several times over the years. Despite these changes, the requirements that boys advance through levels of ranks by learning various skills and earning merit badges has remained basically the same. The scout program has acquired land throughout the state, including reservations at Boxwell near Nashville and Watts Bar near Knoxville. These reservations anchor the outdoor experience and merit badge work, provide summer camp for boys, and sites for adult training.
The most momentous decade for the Boy Scouts in Tennessee occurred in the 1930s, when the first African American troops organized, the Cub Scout program for younger boys began, and a troop for blind boys was organized. In the 1940s the scouting program employed the first African American professional leaders, and during the 1960s racial segregation of the troops ended. In the 1970s the Boy Scouts admitted girls to the Explorers, a program designed for older boys, with an emphasis on gaining professional experience.
Today, the scout program in Tennessee is administered through six regional councils: the Sequoyah (Johnson City), Great Smoky Mountains (Knoxville), Cherokee (Chattanooga), Middle Tennessee (Nashville), West Tennessee (Jackson), and Chickasaw (Memphis). Adult volunteer leadership at the troop level and sponsorship by local organizations such as churches and businesses are still the essential ingredients to making scouting work. Since 1910 over five million boys in Tennessee have experienced scouting and have benefited from a program that continues to promote "patriotism, courage, self-reliance, and kindred virtues" by emphasizing "codes for character development, citizenship training, and mental and physical fitness."