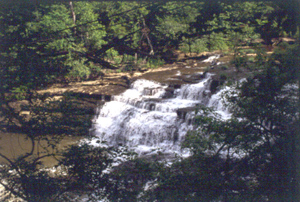 Burgess Falls State Natural Area
Located along the Falling Water River in Putnam and White Counties, the Burgess Falls State Natural Area contains 155 acres. Burgess Falls is one of the most dramatic in the state and has been a location for movie and television productions. Its name comes from Tom Burgess, an early settler who received the land in a Revolutionary War grant. The Burgess family used the rushing water to establish a profitable grist mill. Over one hundred years later, in 1924, the city of Cookeville built a steel and earthen dam near the falls to provide municipal power. A huge flood destroyed the facility four years later, but the city rebuilt the dam in concrete. This hydroelectric installation closed in 1944, but the dam remains at the site, creating a lake that is popular for fishing.
The transformation of the Burgess Falls area into a recreational park began in 1950 when the city of Cookeville established a cooperative management agreement with the State of Tennessee. In 1971 the state formally created the Burgess Falls State Natural Area. It is a day-use park, with several trails, a playground, and picnic facilities.