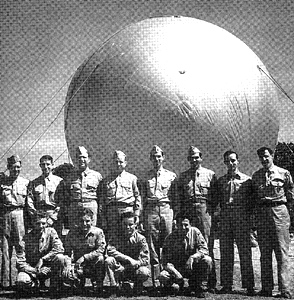 Camp Tyson was the nation's only World War II barrage balloon training center. Established at Paris, Henry County, the camp trained servicemen to fly, build, and repair barrage balloons, which were helium- or hydrogen-filled balloons measuring thirty-five feet in diameter and eighty-five feet in length used in aerial coastal defense. Made of a two-ply cotton fabric impregnated by synthetic rubber and lofted nine thousand to twelve thousand feet into the air, the balloons were nicknamed "big bags," "air whales," and "sky elephants." The massive quantities of rubber needed to construct the balloons drove up the cost of construction to between five thousand and ten thousand dollars apiece and became a factor in wartime rationing of rubber products and tires.
The nearly invisible steel cables that anchored the small blimps posed the greatest danger to enemy aircraft. Arranged in concentric circles, the cables provided a shield around important buildings, factories, or strategic areas. The Nazi blitz on England and the Battle of Britain renewed the need for barrage balloons, which had proved effective in World War I antiaircraft protection. Concerned about security of coastal cities, the U.S. War Department established the barrage balloon training center about eight miles south of Paris, Tennessee, in August 1941.
The two-thousand-acre camp was named for Brigadier General Lawrence D. Tyson, a distinguished World War I veteran and prominent citizen of Knoxville. Construction began in the early fall of 1941, and at its peak in December construction crews employed over eight thousand laborers to erect 450 buildings including wooden barracks, a 400-bed hospital, and a 2,500-seat theater, all of which were served by a modern water system. In March 1942 officers and enlisted men arrived in detachments of five thousand or six thousand men; by the end of the war, Camp Tyson's occupancy ranged from twenty thousand to twenty-five thousand soldiers. A 1943 expansion of the camp tripled the original two thousand acres. A well-known Henry County antebellum home, "Bowdenville," was destroyed to accommodate the expansion.
British instructors, who possessed firsthand knowledge of aerial bombing, helped to instruct Americans on proper balloon training. Recruits learned how to quickly inflate and send balloons afloat and repair any punctures or damages the rubber skins received. A good crew could fully inflate and launch a balloon in less than thirty minutes.
Like several other training camps in Tennessee, Camp Tyson also served as a prisoner of war camp for German and Italian POWs. While at Camp Tyson, prisoners worked on the land and assisted in the development of area roads.
At the end of their training, balloon crews were billeted out for antiaircraft coastal duty. They sent up balloons, assisted with antiaircraft guns, and manned the searchlights that crossed the skies.
As the world entered the nuclear age with the dropping of the atomic bomb, barrage balloons became an anachronism. Although originally intended as a permanent military post, Camp Tyson closed after the war, and the H. C. Spinks Clay Company purchased the property.