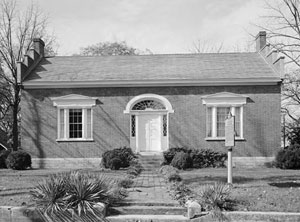 Located in historic Franklin, the Carter House was built in 1828 and completed in 1830 by Fountain Branch Carter. The Carter property included a farm of 288 acres, where Carter, a gentleman farmer, raised cotton, corn, wheat, and rye. He owned twenty-eight slaves who lived in the seven slave cabins on the property. In 1860, at the beginning of the Civil War, Carter's worth was sixty-two thousand dollars.
The house is constructed of bricks, glass, and squarehead nails, which were all made on the farm. The wood in the house is mostly tulip poplar, said to deter termites. The house contains many decorative elements, including ashlar treating, graining, marbling, and wall paper. The house represents the home of a wealthy planter of the mid-1800s. The kitchen, smokehouse, slave cabins, and farm office still stand.
Before the battle of Franklin, Union General Jacob D. Cox set up his headquarters in the parlor. When the Carter family inquired if they should leave, Cox assured them of the unlikely possibility of a battle and suggested that they remain to protect their property. The Carter family stayed. But the battle of Franklin, one of the bloodiest of the war, came to almost the front door of the Carter House and the family sought shelter in their basement. One of the Carter sons, Captain Tod Carter, was severely wounded in the battle and was brought to the house, where he died. Two other sons, Moscow and Francis, fought with their brother in the Twentieth Tennessee. After the battle, the parlor of the Carter House became a Confederate field hospital. Although the Carter House survived the battle of Franklin, many scars and bullet holes remain in the wood and brick of the outbuildings.
The Carter House is a National Historic Landmark owned by the State of Tennessee and operated by the Carter House Association. The site includes a visitors' center with museum and a video program about the battle of Franklin.