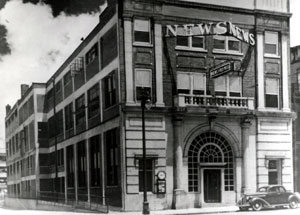 Chattanooga Times Free Press
Roy McDonald was the founder and longtime publisher of the Chattanooga Times Free Press. Originally a grocer, McDonald began the Free Press in 1933 as a small flyer to promote his chain of Home Stores. It proved popular and quickly became an inexpensive alternative to the dominant Chattanooga Times. In April 1936 McDonald added news features and comics to the Sunday weekly and began charging five cents. The following August he began daily publication of the Free Press and initiated direct competition with the morning Times and the afternoon Chattanooga News.
In 1939 McDonald purchased the News and launched a new afternoon daily, the Chattanooga News-Free Press. Marketing the paper towards local blue-collar workers whose shifts ended at 4 p.m., McDonald filled his publication with folksy hometown news and upbeat business features. Circulation steadily increased and the News-Free Press soon emerged as a serious challenger to the established and respected Times.
The two papers soon found themselves engaged in relentless competition. Beset by their fierce rivalry and wartime shortages, the two publications called a truce in 1942 and formed a joint publication agreement. The two papers shared advertising, circulation and production departments, but maintained separate news and editorial staffs.
During the 1950s the circulation of the News-Free Press continued to grow. The paper's appeal was helped in large part by an increasingly conservative editorial policy and by its outspoken opposition to the desegregation movement. The Times, in contrast, emerged as a steadfast supporter of civil rights. Conservative southern readers abandoned the Times in droves, and by the 1960s the News-Free Press was becoming the city's dominant publication.
In 1966 McDonald nullified the joint publishing agreement and resumed head-to-head competition with the Times. The conservative and upbeat tone of the News-Free Press found a welcome audience among Chattanooga's anxious middle class. Circulation was also helped by McDonald's increasing use of photographs of all sorts of events.
In 1980, after more than a decade of intense competition, the Times and News-Free Press entered into another joint publishing agreement. This arrangement was similar to the earlier 1942 agreement with one notable exception: in the new accord the Times was pointedly referred to as a "failing newspaper."
McDonald died in 1990, but his journalistic legacy continued through his son, Frank McDonald, who became chairman and president of the newspaper. In 1993 the newspaper changed its name back to the Chattanooga Free Press. In 1998 the newspaper was sold to Walter Hussman Jr. of Little Rock. By the end of the year, Hussman also had acquired the Chattanooga Times. On January 5, 1999, the first issue of the merged newspapers, sharing the nameplate Chattanooga Times and Chattanooga Free Press, was released. Two years later, on January 25, 2001, the name was changed to the current Chattanooga Times Free Press.