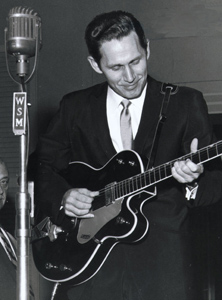 Chester Burton "Chet" Atkins
Chet Atkins, one of country music's greatest instrumentalists, producers, and promoters of the Nashville Sound, was born the son of a fiddler in Luttrell, Union County in 1924. He took up guitar at an early age but first performed on Knoxville's WNOX as a fiddler, a sideman for Johnnie Wright and Jack Anglin, and Kitty Wells. Atkins moved on to Cincinnati's WLW, Nashville's WSM, and Springfield, Missouri's KWTO, backing artists such as the Carter Sisters and Red Foley during the 1940s.
In 1950 Steve Sholes of RCA offered the guitarist his first contract. Atkins returned to Nashville and immediately became a prominent studio artist. His musical talents and friendship with Sholes led to his appointment as Sholes's Nashville assistant in 1952. When RCA built its own studio in 1957, Atkins managed it. Before long, Sholes turned over RCA's country operations to his protégé, and by 1968 Atkins was a vice-president at RCA.
Atkins supervised other producers, produced many of his own recordings, and signed such artists as Waylon Jennings, Willie Nelson, Dolly Parton, Jerry Reed, and Charley Pride. As an instrumentalist and producer, Atkins broadened the country music sound to compete with the growing popularity of rock music. By shaping the Nashville Sound, he strengthened the city's position as a recording center and helped establish its fame as Music City.
Known by many as "Mr. Guitar," Atkins legitimized the role of the country guitar soloist throughout his career with dozens of albums showcasing his unique "galloping guitar" picking style. The Gretsch and Gibson guitar companies even brought out guitar models built to Atkins's specifications.
As of 1997 Atkins had received fourteen Grammy awards and in 1973 became a member of the Country Music Hall of Fame, at that time the youngest individual to be so honored. He retired from RCA in 1981 but continued to perform and record until his death on June 29, 2001.