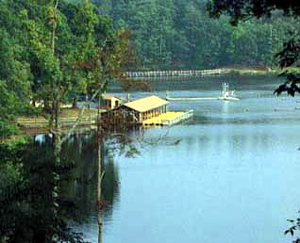 Chickasaw State Park is named for the Chickasaw Indians who once inhabited West Tennessee and North Mississippi. It includes approximately 1,400 acres. It is located in West Tennessee along the border of Hardeman and Chester Counties and was one of the state's twenty New Deal-era state parks. The Farm Security Administration (FSA) originally designated the area as a utilization project to reclaim eroded and submarginal lands. Initially, state interests concentrated on reforestation, but they eventually expanded to include recreational development covering a 13,104-acre park and adjacent state forest.
The FSA's Chickasaw Land-Use Project outlined three overall goals during the early 1930s: (1) to relocate local residents from eroding and submarginal lands to fertile areas and introduce them to updated agricultural methods; (2) to redevelop eroded, overused land through reforestation; and (3) to create a wildlife preserve and recreational area. The Civilian Conservation Corps and Works Project Administration performed the preliminary work. In 1934 President Franklin D. Roosevelt approved reclamation of the area before turning it over to the Resettlement Administration. Limited state and federal funding reduced the original 35,000-acre site plan to 20,000 acres. By 1939 the main recreational area included a 54-acre lake, boating and picnic facilities, a lodge, baseball fields, trails, cabins, a group camp, and a recreational building.
The Chickasaw Land-Use project also provided funding for the restoration and development of historic and prehistoric sites near Bolivar and Henderson that included Pinson Mounds, the vacation home of President James K. Polk, and Civil War earthworks. Regulators of the land-use project wanted to expand the program to include a segregated recreational area within the park for African American use; however, state officials failed to address this issue, and it was abandoned.
Chickasaw State Park rapidly became a popular recreational site, and more than 170,000 visitors were recorded during the years 1939 to 1941. Attendance before and after World War II more than doubled that of other state parks. Chickasaw State Park and Forest remained under jurisdiction of the Tennessee Division of State Parks until 1949, when the site's administrative responsibility was transferred to the United States Forestry Service, with the exception of the lakes, which remained under the supervision of the state's Game and Fish Commission. In 1955 all administrative park duties returned to state control, and the park and forest lands were deeded to the state. The Tennessee Department of Environment and Conservation now manages the park.
Suggested Reading
Carroll Van West, The New Deal Landscape of Tennessee (2001)