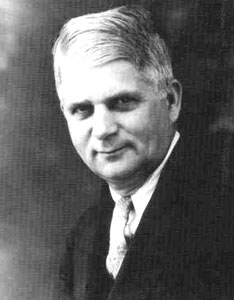 Clarence Saunders changed the way people buy their groceries. In his innovative Piggly Wiggly self-service stores no clerks fetched groceries for customers. Instead shoppers selected from items placed on shelves within easy reach. While Saunders did not open the first self-service store, he is credited with selling this idea to a public still accustomed to being waited upon in stores.
Saunders was born in 1881 to an impoverished Virginia family, who moved to Palmyra, Montgomery County, Tennessee. Young Saunders found his calling in a Clarksville wholesale grocery house. While still in his twenties, Saunders left Clarksville for a sales position in a Memphis grocery company. A bold and observant salesman, Saunders paid close attention to the business methods of his retail clients. Displeased by the lack of efficiency, he developed the idea of self-service.
On September 11, 1916, Saunders opened his Piggly Wiggly store for business. Shoppers liked the store where prices were cheaper than competing markets. Within a year he was selling Piggly Wiggly franchises across the nation. By 1923 the Piggly Wiggly chain included 1,268 stores selling $100 million in groceries and was the third largest retail grocery business in the nation. Piggly Wiggly stock was traded on the New York Exchange.
Then Saunders managed to lose it all. An attempt to corner the Piggly Wiggly stock failed, costing Saunders millions of dollars. He resigned from Piggly Wiggly and filed for bankruptcy. Immediately, he opened a competing grocery, called the Clarence Saunders Sole Owner of My Name Stores, or the Sole Owner Stores. A successful endeavor until the Great Depression, Saunders once again lost his business in the 1930s.
For the rest of his life, Saunders experimented with an automated grocery store, which he named Keedoozle. It operated on the principles of the vending machine. The customer slipped a key into a coin slot next to a window display. The key activated circuits that released merchandise from the storage room chutes. The merchandise tumbled to conveyor belts and was carried to the shoppers at the cashier's desk. Saunders visualized a system that would dispense groceries quickly, with fewer errors, and simultaneously track inventory. Unfortunately, Keedoozle never operated profitably.
On October 15, 1953, Clarence Saunders died. Having built and lost two fortunes, he will be remembered as the man who brought the retail store into the twentieth century.
Suggested Reading
Mike Freeman, "Clarence Saunders: The Piggly Wiggly Man," Tennessee Historical Quarterly 51 (1992): 161-69