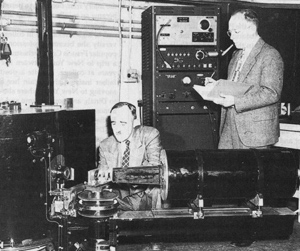 A Nobel laureate who pioneered neutron diffraction research at Oak Ridge, Clifford Shull was born at Pittsburgh, Pennsylvania, in 1915. He attended Carnegie Institute of Technology and New York University, where he earned his Ph.D. in nuclear physics in 1941. During World War II he worked for the Texas Company in New York, performing research on the physical properties of catalysts with gas absorption and X-ray diffraction techniques.
Shull joined the Oak Ridge National Laboratory (ORNL) as a senior physicist in 1946, when the field of neutron diffraction was novel. He and Ernest O. Wollan bombarded various materials with neutron beams from the Oak Ridge Graphite Reactor and carefully studied the scattering of neutrons from the materials. In this research, they systematically examined the fundamental principles of neutron diffraction and established this technique as an outstanding method for measuring various nuclear properties and for determining the atomic and magnetic structures of materials. In 1994 Shull received the Nobel Prize in Physics for his pioneering research at Oak Ridge.
Shull became professor of physics in 1955 at the Massachusetts Institute of Technology, where he and his students continued to use neutron scattering techniques for research in solid state and neutron physics. He retired in 1986 and became emeritus professor.
Suggested Reading
Leland Johnson and Daniel Schaffer, Oak Ridge National Laboratory: The First Fifty Years (1994)