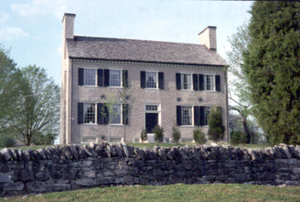 Cragfont is a beautiful Georgian-style mansion located on a craggy eminence above Bledsoe's Creek seven miles east of Gallatin. James and Susan Black Winchester had the house designed and built between 1798-1802. The masons built the two-story house of gray, rough-finished native limestone quarried near the site. When completed, it was the most elegant residence on the Tennessee frontier, the first to reflect the grandeur and style of the fine eighteenth-century homes of Maryland and Virginia.
Cragfont is T-shaped with the front section representing the top of the T and the rear wing its stem. At first the rear wing was erected of a single story, but a second floor for a ballroom was added circa 1810 using brick walls covered with stucco.
The first floor included the parlor, entrance hall, office, library, a cross hall, dining room, kitchen, and, separated by a massive stone fire wall, a smokehouse. The owners' bedroom, a hallway, two other bedrooms, a ballroom, and card room were upstairs. From the ballroom a stairway rose to a partially finished attic. Broad porticoes flanked the rear wing at both levels.
An elaborate garden was situated on the east side of the house. Some sixty yards north was the family cemetery. Slaves lived in row quarters in an area west of the cemetery; the slave quarters have not survived.
Cragfont was always home for Susan and James Winchester's family of eight daughters and six sons. James died in 1826, but Susan lived there until her death in 1862.
In 1958 the Tennessee Historical Commission acquired Cragfont, which is listed on the National Register of Historic Places and now is open to the public.