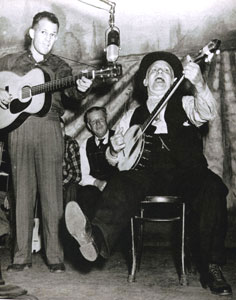 David Harrison "Uncle Dave" Macon
Grand Ole Opry star Uncle Dave Macon was born in Warren County in 1870. He learned the craft of entertainment from vaudeville actors and actresses who boarded at his parents' rooming house in Nashville. After traveling the vaudeville circuit for a time, Macon acquired a log cabin in Rutherford County from which he founded and operated the Macon Midway Mule and Wagon Transportation Company. As a muleskinner, Macon absorbed the folklore and music of white and black workers in farming communities, on the railroads and rivers, and in the mines. These songs and stories, which became a part of his repertoire, document and preserve an important segment of the changing South.
In 1926 Macon joined WSM's Grand Ole Opry as its first vocalist. His combination of banjo music and homespun humor immediately won many fans from people who identified with his songs and anecdotes about working-class people and hard times. Until his death in 1952, "Uncle Dave" Macon regularly performed on the radio show. The National Register-listed log house in which Macon lived for over fifty years still stands on the Old Woodbury Highway, and he is buried in Coleman Cemetery just down the road and across Cripple Creek–the subject of one of his most performed songs.
The celebrated comedian and musician is remembered each July at "Uncle Dave Macon" Days in Murfreesboro, as hundreds gather for the festival featuring "old time music." Macon's contributions are a significant part of the legacy of country music.
Suggested Reading
Bill C. Malone, Country Music USA (1985)