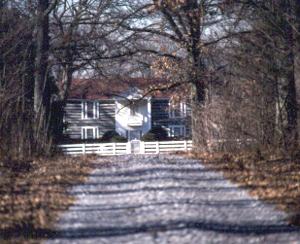 Located at Brunswick, Davies Manor is recognized as the oldest extant dwelling in Shelby County and perhaps West Tennessee. The west section of the two-story, white oak log, central hall plan house dates to circa 1807 and has been attributed to an unknown Native American owner and builder. A mound probably dating to the Middle Woodland Period is directly adjacent to the dwelling.
In 1831 Joel W. Royster enlarged the house into a fashionable two-story, three-bay farmhouse. The house became known as Davies Manor sometime after its acquisition by Logan E. Davies in 1851. Logan and his brother James B. Davies eventually operated a plantation of two thousand acres which was especially noted for its production of Berkshire swine.
Davies Manor is listed in the National Register of Historic Places and was included in the 1976 and 1986 surveys of Tennessee Century Farms. In 1976 Ellen Davies-Rogers donated the house to the Davies Manor Association, which operates it as a historic house museum of antebellum life in Shelby County.