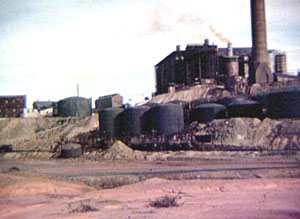 The Ducktown Basin Museum is located in Polk County at the southeastern corner of Tennessee. The museum documents and interprets the copper mining history of the state. Located on the grounds of the former Burra Burra Mine Company overlooking the town of Ducktown, the museum preserves key elements of the area's industrial archaeology in addition to documenting the environmental destruction associated with underground and surface mining and the smelting process.
Copper mining in the "Copper Basin" dates to the 1840s; a reproduction of the Hiwassee smelter stack (circa 1850) is on the west side of Tennessee Highway 68. Julius E. Raht became the leading manager of the various Copper Basin companies prior to the Civil War. While the conflict stopped mining in 1863, postwar production soared. From 1865 to 1878, over 24 million pounds of copper were taken from underground mines while fifty square miles of the basin were stripped of timber in order to build underground mines and fuel local smelters.
The next era of sustained growth and expansion came in the late 1890s when the newly formed Tennessee Copper Company sank a giant underground shaft at its Burra Burra mine in 1899. By the time the company closed Burra Burra mine in 1959, over 15.6 million tons of copper ore had been extracted. The company maintained a surface mining office at Burra Burra until 1976, and copper mining continued in the Basin until 1987. The Ducktown Basin Museum interprets the remnants of the Burra Burra works, including ten buildings located on seventeen acres as well as the only surviving mine headframe in Tennessee. Due to their significance in the state's mining history, the Burra Burra mine properties and large portions of the towns of Ducktown and Copperhill are listed on the National Register of Historic Places.