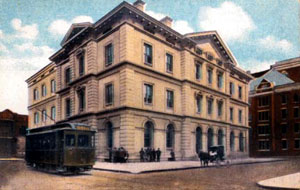 East Tennessee Historical Society
Prominent Knoxville civic leaders established the East Tennessee Historical Society in 1834. These individuals included Dr. J. G. M. Ramsey, who served as perpetual recording secretary, and Judge William B. Reese, who was elected the first president. According to Ramsey, the society procured and perpetuated "all that relates to the early history and antiquities of Tennessee." (1) To that end, the society collected manuscripts and artifacts which were stored at Mecklenburg, the Ramsey's home at the fork of the French Broad and Holston Rivers. When Union soldiers burned Ramsey's home during the Civil War, the society's entire collection, including the papers of William Blount, John Sevier, Samuel Wear, and Alexander Outlaw, was lost in the flames.
The destruction of Mecklenburg and Ramsey's flight to Georgia brought the operation of the society to a halt. In 1883 a group of former Confederate officers including William G. McAdoo and William Henderson reorganized the society as an auxiliary of the Southern Historical Society. Although unable to attend, the bed-ridden Ramsey blessed the reorganization. The society sponsored a number of popular historical lectures, but within about twenty years, the organization again lapsed into inactivity as the veteran leaders died.
In 1925, primarily through the efforts of University of Tennessee faculty and Knox County librarians, the society was resurrected again. The society sponsored lectures and published its first official monograph, Sectionalism and Internal Improvements in Tennessee (1939) by Stanley Folmsbee. The annual Publications (today The Journal of East Tennessee History), first published in 1929, quickly became the most significant aspect of the society. In addition to its informal affiliation with the university, the society forged close ties with the McClung Historical Collection, which provided office space and secretarial support.
In the early 1980s the board of directors hired its own professional staff and moved the society's headquarters to the Old Custom House in downtown Knoxville. During the tenure of executive directors Dr. Charles F. Bryan Jr. (1981-86) and Dr. Mark V. Wetherington Sr. (1986-89), the society experienced an era of unprecedented growth as membership doubled, an affiliate chapter program strengthened its outreach to the greater East Tennessee community, and the publication of the tri-annual Tennessee Ancestors enhanced the genealogy mission. The society further expanded its scope during the administration of Dr. W. Todd Groce (1990-95) through the establishment of the Museum of East Tennessee History and the "First Families of Tennessee" project, which recognized over eleven thousand descendants of Tennessee pioneers as a part of the state's bicentennial. The current director, W. Kent Whitworth, has expanded public programs and directed the installation of the museum's permanent exhibits. The East Tennessee Historical Society plays a key role in collecting and preserving Tennessee history.