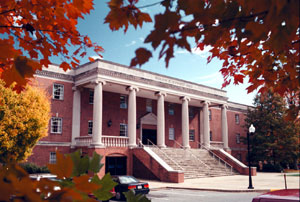 East Tennessee State University
Located in Johnson City, East Tennessee State University evolved from East Tennessee State Normal School, which enrolled the first students in October 1911. In 1900 Tennesseans found their public schools in poor condition. State law required a minimum of one hundred days per term. Publicly supported four-year high schools were few. Teachers for the lower grades qualified by completing the eighth grade and passing state examinations. Some teachers in the high schools had attended college, but few held bachelor's degrees. All had to pass examinations in the subjects they taught. State superintendents sponsored "state institutes," held in centrally located cities, and employed well-trained administrators and teachers to instruct those enrolled. Most of the teachers, however, lived in rural areas and attended "county institutes" that featured preachers, local orators, politicians, superficial reviews in elementary subjects, and easy examinations. State Superintendent Seymour A. Mynders complained that 40 percent of the schools could not operate if the requirements for spelling and composition were rigidly followed.
In 1903 leading educators decided that the time had come to make radical improvements, and they launched a "crusade." In the front rank were Professor P. P. Claxton of the University of Tennessee; Sidney G. Gilbreath, former state superintendent and superintendent of Chattanooga schools; Seymour A. Mynders, state superintendent; and R. L. Jones, superintendent of Hamilton County schools and soon to be state superintendent. Their crusade lasted for six years and resulted in the passage of the Education Act of 1909 to modernize the state school system; among the reforms was the provision for four normal schools to train teachers. Gilbreath, Mynders, Jones, and W. J. Hale were selected as presidents of the four normals located in Johnson City, Memphis, Murfreesboro, and Nashville.
The normals offered an "academic course" that included subjects taught in first-class high schools plus elementary psychology and methods for teaching in the lower grades. The "normal course" included advanced psychology, methods of teaching high school subjects, and the usual liberal arts courses for college freshmen and sophomores. In 1919 the state board eliminated the first two years of the academic course and added the junior year of college to the normal course. Five years later the board dropped the academic course and added the fourth year of college.
At this time the board also changed the name of the normal school in Johnson City to East Tennessee State Teachers College. Changing economic, social, professional, and intellectual needs and interests justified eliminating "Teachers" from the title in 1941. In 1949 the general assembly authorized state colleges to develop graduate programs. Colleges of Arts and Sciences, Education, Business, and the Graduate School were organized. The first master's degrees–four in number–were awarded in 1951. In 1963 East Tennessee State College achieved university status. Since then the James H. Quillen College of Medicine, College of Applied Science and Technology, School of Continuing Studies, College of Nursing, and College of Public and Allied Health have been added to the roll.
The University Libraries include the Sherrod Library, the Instructional Media Center, Archives of Appalachia, the University Archives, and the ETSU/UT at Kingsport Library. The University Archives maintain papers and correspondence dating from 1909 that greatly contribute to understanding and appreciating the problems that have faced presidents, politicians, faculty, students, parents, and taxpayers. B. Carroll Reece, who served as a member of Congress for thirty-four years, left his papers to the library. Other valuable primary sources are Johnson City Foundry and Machine Works Collections and Washington County (Tennessee) Court Records. The Archives of Appalachia include manuscripts, institutional records, photographic prints, negatives and slides, and audiovisual materials dealing with the area.
In 2000 East Tennessee State University enrolled 10,821 students, including 242 medical students. Over one hundred degree programs are available, awarding associate, bachelor's, master's, Ed.S., Ed.D., Ph.D., and M.D. degrees.
Suggested Reading
Frank B. Williams Jr., A Universitys Story, 1911-1980, East Tennessee State University (1991)