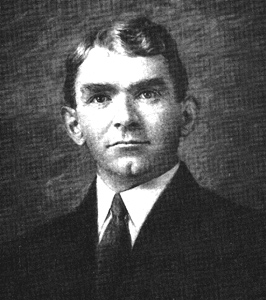 Democratic boss of Memphis and state political power during the Great Depression, Edward Hull Crump was born in Holly Springs, Mississippi, in 1874, the son of a planter and former Confederate officer. Crump's father died of yellow fever soon after his birth, and Crump grew up poor. He moved north to Memphis as an ambitious seventeen-year-old bookkeeper, married the daughter of a wealthy merchant, and bought the carriage manufacturing firm where he worked.
In 1905 businessman Crump entered politics as a Chamber of Commerce candidate for efficient, progressive government, winning election as a councilman and then, in 1909, as the mayor who began the commission form of government. His political success came without making a single political speech. Devoid of oratorical ability himself, Crump displayed a genius for understanding human nature and organizing others who could make speeches on the main streets and negotiate on the back streets with the six hundred saloon keepers and ward bosses whose support was critical.
Crump's talent was administration. He ran an efficient city government, getting more effort from the health, fire, and police departments. His administrative ability also built a personal political machine. On taking office, Crump conducted a brief publicity war on vice-but then permitted the underworld to run wide-open. The underworld of gambling, prostitution, and alcohol contributed protection money. Police Chief William J. Hayes later testified in court that underworld figures contributed as much as eighty thousand dollars in a single year. In addition to his use of tainted money for private purposes, Crump also paid a sufficient number of poll taxes to control elections.
Municipal corruption never led the voters to throw Crump out of office. Moralistic progressives turned to the courts to oust the Crump machine. In 1909 Tennessee adopted a statewide prohibition law that seemed to make Crump vulnerable to removal. When Crump refused to enforce the law in Memphis, Governor Ben Hooper pushed an ouster law in 1915 which provided the judicial method for removal of public officials from office who refused to enforce state laws. Crump resigned his office just ahead of court action.
While loss of office embarrassed Crump, he never admitted guilt. Instead, he presented himself as a victim of conspiracies by evil private power corporations that feared his plan for public power corporations. Crump's public relations campaign succeeded so completely that his fabrication was accepted as true even though no evidence supported the alibi.
In business, Crump turned to insurance and Coca-Cola franchising, becoming a millionaire. He remained out of city government for a decade before returning in 1927 as a political boss who no longer ran for office, except for a single congressional term, but who elected his entire slate of candidates. In 1932 his candidate for governor, Henry H. Horton, won, and for the next sixteen years Crump influenced the outcome of statewide elections. With Tennessee voter turnout low as a result of the poll tax, Crump's heavy Shelby County vote controlled state elections.
Crump understood the vanity of individuals and devoted enormous energy and industry into making individuals feel important. Always cordial, he worked hard over the course of many years to oblige the demands of individuals and groups. After more than twenty years of this kind of political effort, Crump commanded absolute authority in Memphis and Shelby County. He benefited enormously from the Great Depression, which shattered people's self-confidence and made them look to paternalistic leaders for relief. New Deal patronage–WPA jobs–boosted his power. Those who needed work or feared they might need assistance could not afford to oppose the machine. During the thirties, political candidates stopped running for office against Crump's local slate.
Under Crump's absolutism, city services worked. City employees undertook election work to keep the machine in power and did the people's work, too. Garbage was picked up daily, the streets were cleaned, the fires put out, and criminals arrested. People went to Crump to solve problems. He kept the taxes low and even reduced property taxes a few pennies a year. Crump government was modest and frugal in its expenditures because cheap government was good politics.
Crump's absolutism, however, required a social cost–a loss of individual freedom. Criticism and public opposition had to be abandoned. All were forced to pay homage to the boss. Newcomers learned how the system worked. A jeweler opening a business on Main Street, for instance, learned that city inspectors would not approve his building unless he purchased an insurance policy from E. H. Crump and Company.
Freedom of expression did not fully exist. Reporter Turner Catledge was beaten for getting too close to election fraud. A chemist's complaint letter to the newspaper resulted in his loss of a job. Black druggist and baseball executive J. B. Martin was run out of town. The political organization especially sought to intimidate black leadership as well as CIO labor organizers.
The dictatorship eventually produced an uprising from the middle class, blacks, and labor during Estes Kefauver's 1948 Senate race. Crump's absolutism was broken with the election of Kefauver, but his control over Memphis government continued until his death on October 16, 1954. Memphis honored the Boss with an eight-foot-tall statue in Overton Park, making him the only political leader (the others are a Confederate warrior and two entertainers) memorialized by the city in bronze.
Suggested Reading
Dewey W. Grantham, "Tennessee and Twentieth-Century American Politics," in Tennessee History: The Land, The People, and The Culture, ed. Carroll Van West (1998), 343-72; William D. Miller, Mr. Crump of Memphis (1964); David Tucker, Memphis Since Crump: Bossism, Blacks, and Civic Reformers, 1948-1968 (1980)