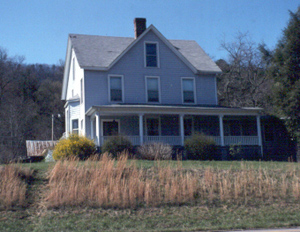 The small mountain community of Embreeville, located on the Nolichucky River in the southeastern corner of Washington County, has a long mining history. Ores in the Bumpass Cove area, about three miles southeast of Embreeville in Unicoi County, were first mined for lead reportedly used in bullets fired at the British in 1780 in the battle of Kings Mountain.
Iron mining and smelting began as early as 1815, when Elijah Embree and others sporadically produced iron from Bumpass Cove ores in crude beehive furnaces made from slabs of native rock. In 1889 English investors formed the Embreville Land, Iron and Railway Company. (All successor companies corrected the spelling to "Embreeville.") Embreville Freehold purchased the forty-five-thousand-acre John L. Blair Estate, and in 1891 a railroad, later acquired by Southern Railway Company, was completed from Johnson City to Embreeville. That same year the company formed the Embreeville Town Company to develop a town of thirty thousand inhabitants. In 1892 the company completed a smelter with pig iron output of 150 tons per day. All efforts to develop commercial iron production proved futile, though, and in 1900 American interests took over the British holdings.
The Embree Iron Company acquired the property in 1903 but was equally unsuccessful in commercially producing pig iron. The company was able to stave off dissolution in 1913, however, when the presence of commercial zinc deposits was recognized. Embree Iron Company began producing zinc and then lead and quickly paid off its debts. Although ore reserves dwindled after World War I, the company continued to operate during the Great Depression. Manganese production began in 1935, and in 1939 the company was the nation's largest producer of metallurgical grade manganese concentrates, boasting an output of 73,000 tons. Manganese reserves were rapidly exhausted, however, and the company was liquidated in 1946.