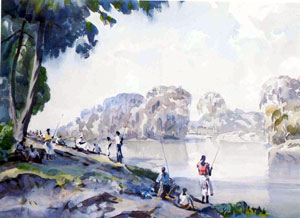 Tennessee boasts 649,000 acres of productive fishing waters–the finest anywhere. Twenty-nine major reservoirs, nineteen thousand miles of warm and cold water streams, and thousands of smaller lakes and ponds provide unlimited fishing opportunity and variety year-round.
Fish stories told in Tennessee are true (most of them anyway). Bass fishermen throughout the country know but, always loath to divulge the location of a good fishing hole, are reluctant to tell others about a state that raises world-record fish and fishermen. Bill Dance, a Memphis native, is one of the most renowned bass anglers in the United States. His many fishing tips have helped young and old enjoy a great sport here in Tennessee.
Most anglers have heard of Tennessee's world-record smallmouth bass catch caught at Dale Hollow Lake. This monster smallmouth, caught by Kentucky angler D. L. Hayes while trolling a bomber from a houseboat, tipped the scales at 11 lbs. 15 oz.
Word of Tennessee high striper bass (rockfish) has also traveled fast. Fishermen drive long distances to Tims Ford Reservoir, Percy Priest Lake, Melton Hill Reservoir, and other East Tennessee lakes to try their luck landing stripers that weigh from 20 lbs. to more than 60 lbs. The state record for a striper bass is 60 lbs. 8 oz. and was taken from Melton Hill Reservoir's fertile waters.
Largemouth bass are plentiful in most Tennessee lakes, reservoirs, rivers, and streams. Farm ponds produce many Largemouth bass catches every spring. The state-record largemouth bass was caught at Kentucky Lake's Sugar Creek. It tilted the scales at a whopping 14 lbs. 8 oz.
For catfishermen, there are four species–channel, blue, flathead, and brown bullhead–of catfish swimming in most Tennessee waters. Fall Creek Falls State Park boasts the record channel catfish catch, 41 lbs., while the French Broad River in East Tennessee claims the record for a blue cat at 68 lbs. Barkley Lake's 65 lb. flathead catfish is still discussed among avid catfishermen, and Chickamauga Lake yielded the record brown bullhead catfish: 2 lbs. 14 oz. Pickwick Dam in West Tennessee has rightly earned the name, "Catfishing Capital of the World." Of course, Tennessee is as famous for its catfish and hushpuppies as it is for southern hospitality. The reason is clear: catfish are probably the easiest to catch other than sunfish and bream (bluegill).
Ounce for ounce and inch for inch, the scrappy bluegill is the fightingest fish that swims in Tennessee waters. Summertime is bluegill time, and when the willow flies hatch, fishermen fill their coolers with one of the tastiest fish around. Bluegill can be caught in any body of water in Tennessee. It has been said, however, that Reelfoot Lake and Cumberland Plateau waters yield "platter-size" bluegill.
Crappie are tagged Tennessee's bread-and-butter fish. This is especially true for natives of Lake and Obion Counties, where Reelfoot Lake is located. Commercial fishermen are permitted to net crappie from Reelfoot Lake three months a year. It is the only lake where commercial fishing is legal in the United States. Crappie are taken in nets, checked by the Tennessee Wildlife Resources Agency, tagged, cleaned, and sold by commercial fish markets in Lake and Obion Counties. There is no limit on crappie at Reelfoot Lake, again the only such lake where this is legal. It is not uncommon to hear fishermen claim catches of three hundred or more crappie. Yellow jacks, another fun fish caught at Reelfoot, are a member of the white bass species. Largemouth bass fishing is also enjoyed at the lake in the spring, among the thousands of cypress knees, stumps, and lily pads.
The Obey River's icy waters have yielded a rainbow trout weighing 14 lbs. 8 oz. and a brown trout tipping the scales at 28 lbs. 12 oz. A brook trout weighing 3 lbs. 14 oz. was lifted from the cold waters of the Hiwassee River.
Walleye taken from Tennessee lakes have weighed 25 lbs. Some of the better walleye fishing can be found in the headwaters of Center Hill Lake. An annual walleye tournament at Rock Island State Park draws participants from hundreds of miles away.
Last is the mighty muskellunge. The Tennessee state record is 42 lbs. 8 oz. and was caught at Norris Dam. Musky fishing is not for the casual or impatient fisherman, and it is definitely not for the weak of heart! Musky fishing provides trophy-sized dynamite with a mouthful of teeth, and Dale Hollow Lake in late December or January, or Woods Hole Reservoir near Tullahoma offers good fishing for this species of pike.
In addition to the areas previously named, the Tennessee Wildlife Resources Agency stocks game fish in a number of agency-managed lakes. The agency also provides information about fishing regulations and licensing fees.