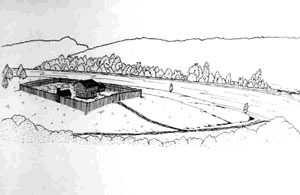 Located in present-day Jackson County, Fort Blount was established in 1794 at the point where the Avery Trace, which connected the Eastern and Mero Districts, crossed the Cumberland River. Named for territorial governor William Blount, this post replaced an earlier blockhouse that had been constructed in 1792 at the eastern edge of the Mero District. Built by the territorial militia, Fort Blount was later garrisoned by federal troops, who remained at the post until about 1798.
Sampson Williams, a South Carolina native, played a vital role in the establishment of the post at the "Crossing of the Cumberland." In 1791 he obtained permission to keep a ferry there; one year later, Governor Blount authorized Williams to raise men to be stationed at the crossing. In 1794 Blount received authorization to establish a larger post and wrote to General James Robertson to report the dispatch of a militia commander to the post on the Cumberland River. The earliest known use of the name "Fort Blount" comes from a July 13, 1795, letter from Blount to Robertson in which Robertson was instructed to reduce the number of militia stationed at the fort.
Williams remained to be active in the area, running a ferry and a tavern at Fort Blount. By March 1796, his brother Oliver Williams was serving as militia captain in charge of the fort; in May Sampson succeeded him in that position. After Tennessee's admission to the Union, the guard stationed at Fort Blount was discharged, and the fort was turned over to federal troops of the Third Infantry Regiment under Captain William Rickard. Although records are sketchy, the federal presence apparently lasted until about 1798. Sampson Williams continued to live in this area, which was referred to as "Fort Blount" for many years.
Archaeological investigations of the Fort Blount site began in 1989, and the Tennessee Division of Archaeology conducted work there for several seasons. Excavations revealed the remains of buildings as well as a number of artifacts related to the everyday operations of the fort. The division published a comprehensive report on its findings in 2000.