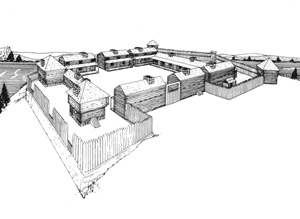 Constructed in 1797, Fort Southwest Point stands on a high knoll overlooking the mouth of the Clinch River where it enters the Tennessee River just within the boundaries of the Cherokee territory of the Territory South of the River Ohio. During most of the territorial period, a militia post known as the "Southwest Point Blockhouse (s)" was located a half-mile above the mouth of the Clinch River on the only east-west road connecting the Knoxville and Nashville area settlements.
The 1797 construction was the work of federal soldiers who had been sent to Tennessee as part of an effort to control ongoing boundary disputes between Euro-American settlers and the Cherokees, who still claimed most of what is now East Tennessee. During the late 1790s, Fort Southwest Point functioned as the headquarters post for the Fourth Regiment of Infantry commanded by Lieutenant Colonel Thomas Butler. Part of the garrison was also made up of the Third Regiment of Infantry, companies of artillery, and a troop of dragoons (cavalry).
By 1801 the number of federal soldiers in Tennessee had been considerably reduced, but Fort Southwest Point remained in use and became the headquarters for a newly appointed Cherokee Indian agent, Colonel Return Jonathan Meigs, who also served as "Military Agent for the Federal Troops in Tennessee." Colonel Meigs's activities at Fort Southwest Point continued from 1801 to 1807, when the agency and the United States' "Factory for Trade with the Cherokee" at Tellico Blockhouse were relocated farther into the Cherokee territory at the new Hiwassee Garrison.
Though Fort Southwest Point lost its more important functions in 1807, its buildings apparently continued to be used by the federal troops until about 1811. Its primary use during this final phase seems to have been as a supply depot for handling materials shipped overland from the east and then by water down the Tennessee and other rivers to new posts farther along the expanding United States frontier.
Today the city of Kingston owns the site of Fort Southwest Point. Several seasons of professional archaeological research have been conducted on this site, and from resultant discoveries some of the buildings and palisade have been reconstructed.
Suggested Reading
Fort Southwest Point Archaeological Site, Kingston, Tennessee: A Multidisciplinary Interpretation (1993)