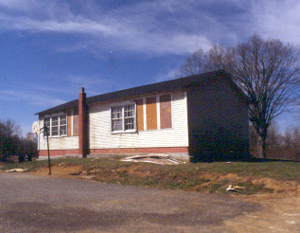 Free Hill (sometimes called Free Hills) is an African American community established in the upper Cumberland before the Civil War. It is located northeast of Celina in a remote section of Clay County near the Kentucky border. The original inhabitants were the freed slaves of Virginia Hill, the daughter of a wealthy North Carolina planter. Hill purchased two thousand acres of isolated and hilly land in what, at that time, was Overton County. She then freed the slaves, turned the property over to them, and left the area. Folklore suggests that among the blacks were her mulatto children Rube, Josh, Betty, and Marie.
Free Hill refers to the surname of the original residents as well as their legal status. Thus, the community's name distinguished them from the slaves of owners with the same surname. The community conferred some degree of freedom on its residents and afforded protection for runaway slaves and black outlaws reaching the isolated region. The name also described the region's remote and hilly physical geography, which provided a haven for antebellum runaway slaves and post-Civil War freedmen.
Free Hill stands as a testament to the resolve of African Americans to retain their sociocultural distinctiveness and promote self-help in an atmosphere of segregation and discrimination. During its heyday, Free Hill contained two grocery stores, three clubs, two eateries, two churches, a school, skilled artisans, and three hundred residents. Although a small, close-knit contingent remains in the black settlement, the community has declined since the 1960s. A substantial number of residents deserted farming and moved to more prosperous areas for economic gain. In September 1993 the State of Tennessee placed a historic marker on Highway 53 identifying the entrance to this African American community and commemorating its uniqueness. Free Hill's historic Rosenwald school was listed in the National Register of Historic Places in 1996. Folklorists also have conducted several research projects at Free Hill, documenting the community's significant place within the folk life of the Upper Cumberland.