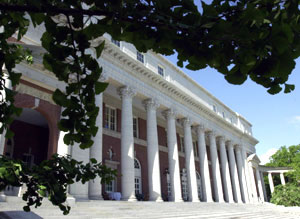 George Peabody College of Vanderbilt University
Designated as the George Peabody College of Vanderbilt University since 1979, this distinguished institution has a 213-year lineage through seven name changes. In 1784 Nashville set aside three land tracts for a collegiate institution; Davidson Academy (1785-86) was chartered by North Carolina 11 years before Tennessee statehood in 1796. Principal Thomas B. Craighead, followed by James Priestley, administered Davidson Academy until it was rechartered as Cumberland College (1806-26). Under President Philip Lindsley (whose son, John Berrien Lindsley, became chancellor after him) the name changed to University of Nashville (1827-75). Peabody Education Fund administrator Barnas Sears then helped transform the University of Nashville's moribund literary department into Peabody Normal College (1875-1909).
Massachusetts-born and London-based merchant-banker George Peabody (1795-1869) established the $2-million Peabody Education Fund following the Civil War to promote public education in the eleven former Confederate states and West Virginia. The Peabody Education Fund established model public schools before funding normal schools for teacher training. Sears wanted a state-funded normal school in Nashville to serve as a model for the South. Despite Peabody Education Fund financial inducements, the Tennessee legislature failed to pass supporting bills in 1868, 1871, and 1873. In 1874 Sears offered $6,000 annually if the University of Nashville would donate land and buildings for a normal school. Relieved from spending state funds, the legislature amended the University of Nashville's charter to establish the State Normal School, officially changing the name in 1875 before changing it again in 1889 to Peabody Normal College.
State Normal College opened December 1, 1875, with thirteen students and closed the year with sixty students. When the legislature rejected State Normal School funding bills in 1877 and 1879, Sears considered moving it to Georgia. This threat prompted Nashville citizens to guarantee $6,000 annually until state aid began. Stung into action, the legislature passed appropriations totaling $429,000 (1881-1905); Peabody Education Fund aid totaled $555,730 (1875-1909). In the 34 years under Presidents Eben S. Stearns, William Harold Payne, and James Davis Porter, Peabody Normal College became a leading American normal school.
By 1910 state university departments of education were replacing normal schools in preparing teachers. This changeover coincided with the Peabody Education Fund's dissolution, which George Peabody's instructions permitted after 30 years. The trustees gave $1.5 million, which required matching funds, to transform Peabody Normal College into George Peabody College for Teachers (1911-79).
Elsewhere in Nashville, the Methodist Episcopal Church, South, established Central University in 1872. It was renamed Vanderbilt University in 1873 after Bishop Holland McTyeire obtained a $1-million donation from Cornelius Vanderbilt. Early in the twentieth century, Vanderbilt chancellor James H. Kirkland envisioned a strong university center and offered Peabody land adjacent to Vanderbilt. After first hesitating, Peabody officials accepted the offer.
From 1911 until 1914 the Peabody campus, modeled after Thomas Jefferson's University of Virginia design, took shape. Peabody's first president, Bruce R. Payne (1911-37), directed the building, raised additional funds, and assembled a first-rate faculty. Classes began in the summer of 1914.
Payne's academic cooperation with, but independence from, Vanderbilt continued under Presidents S. C. Garrison, Henry H. Hill, and Felix Robb through the 1960s. Building on its reputation, Peabody College became a distinctive mini-university including liberal arts, music, physical education, and arts departments; a library school; a demonstration school; the Knapp Farm for Rural Studies; and a widely used Peabody School Survey Unit. It produced more graduates with master's and doctoral degrees than undergraduates and enhanced its regional and national leadership.
After 1970 a national recession, inflation, and rising energy and other costs adversely affected higher education, especially colleges of education. Peabody College lost thirty faculty members (1970-72), undergraduate enrollment dropped from twelve hundred to eight hundred (1972-76), and graduate enrollment shrank. Despite its past reputation, the time for a single-purpose private teachers college seemed over. Peabody's best graduates–state university presidents, deans, leading professors, researchers, and textbook authors–strengthened lower cost public university colleges of education and ironically contributed to Peabody College's demise. President John Dunworth of Peabody began merger talks with Vanderbilt officials at the end of 1978. Peabody College of Vanderbilt University became Vanderbilt's ninth school on July 1, 1979.
Acting Dean Hardy C. Wilcox administered Peabody College during 1979-80. For the next nine years, Dean Willis D. Hawley sharpened its focus, upgraded programs, added new faculty, and made the college a national leader in applying computers and telecommunications to learning and teaching. Since 1992, under Dean James Pellegrino, a $14.5-million renovation of the Social-Religious Building has transformed that building into the Administrative and Technology Education Center. Peabody installed state of the art computers and interactive video and audio, fiber optics, and satellite systems to sharpen and expand learning and teaching. These advances are reflected in its Center for Advanced Study of Educational Leadership, Corporate Learning Center, Learning Technology Center, and the 30-year-old John F. Kennedy Center for Research on Education and Human Development. Peabody's counselor and guidance program has annually been voted among the nation's best since 1990.
Looking back, Davidson Academy, Cumberland College, and the University of Nashville spread learning and culture on what was an isolated western frontier. By providing superior teacher training, Peabody Normal College advanced public education in a war-weakened South. George Peabody College for Teachers set high teacher education standards regionally and nationally.
Faced with greater challenges than similar colleges elsewhere, Peabody and its antecedents struggled, were transformed, and arose phoenix-like to produce educational leaders. Peabody College of Vanderbilt University still proclaims George Peabody's 1852 motto: "Education, a debt due from present to future generations."