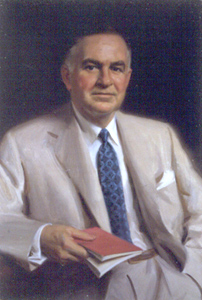 Chattanooga businessman and philanthropist George Thomas Hunter was the nephew of pioneer Coca-Cola bottler Benjamin Franklin Thomas. A native of Maysville, Kentucky, Hunter joined his childless uncle and aunt in Chattanooga in 1904, becoming a surrogate son and business heir. While a student at Baylor School, Hunter worked at the bottling company and learned the soft drink business from the ground up.
Hunter served as secretary of Coca-Cola Bottling Company from 1906 until Thomas's death in 1914, at which time he took control of the business. In 1929 Hunter renamed the company the Coca-Cola Bottling Company (Thomas) in honor of his uncle. Hunter took the title of chairman of the board in 1941 and hired DeSales Harrison from the Atlanta-based Coca-Cola Company to succeed him as company president.
Hunter increasingly took an interest in civic philanthropy. The culmination of his work was the 1944 creation of the Benwood Foundation, named for his uncle's summer home on Lookout Mountain. Upon the death of his aunt, Anne Taylor Jones Thomas, Hunter inherited the remainder of the Thomas estate, along with her home on Bluff View and the summer home. At his death in 1950 the bulk of Hunter's sizable estate was left to the charitable foundation. His foundation benefaction led to a precedent-setting ruling in Tennessee probate law when Chancellor Alvin Ziegler ruled in 1952 that the death taxes would be borne by the residuary estate. The Benwood Foundation and the Hunter Museum of American Art, which opened in 1952, have become his lasting legacies in Chattanooga.
Suggested Reading
Ned L. Irwin, "Bottling Gold: Chattanoogas Coca-Cola Fortunes," Tennessee Historical Quarterly 51 (1992): 223-37