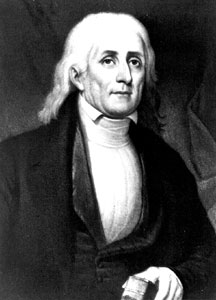 Gideon Blackburn, Presbyterian minister, college president, and missionary to the Cherokees, was born in Augusta County, Virginia, on August 27, 1772. As a young boy, Blackburn moved with his parents to what is now East Tennessee.  In 1787,  he became an evangelical Presbyterian and decided to train for the ministry. He received his education at Martin's Academy, studied theology with Dr. Robert Henderson of Dandridge, and in 1792 received his license to preach from Abington Presbytery, which ordained him two years later.
In his twentieth year Blackburn moved to Fort Craig, near Maryville, where he established a farm, a distillery, and the New Providence church. For the next two decades he presided over congregations in Maryville and Eusebia and acquired a reputation as a powerful and effective public speaker. Meanwhile, he married his cousin, Grizzel Blackburn (October 1793), with whom he had seven daughters and four sons.
Blackburn served as an itinerant chaplain in the Tennessee militia during the war with the Chickamaugas and Creeks (1788-94). He later claimed his military experience exposed him to the problems of the Cherokees and induced him to missionary work. More likely, the evangelical revival of 1800, which added 550 new members to Blackburn's congregations, convinced him to engage in more ambitious apostolic enterprises. In 1803 the Presbyterian General Assembly approved Blackburn's proposal to establish a school for Cherokee children and gave him $200 for living expenses. He obtained an additional $730 from private donors and, following a meeting with President Thomas Jefferson, the United States government. In the fall of 1803 Cherokee leaders granted him permission to begin his work.
Blackburn's school, on the Hiwassee River near present-day Charleston, opened in the spring of 1804; a second school, the Blackburn Mission, opened in 1805. Intended to instill Christian religious precepts and "civilized" standards of behavior, the curriculum emphasized lessons in dress and comportment as well as instruction in reading, math, music, and the catechism. Neither school used interpreters and thus had only limited appeal for non-English-speaking Cherokees. In 1804 and 1805 most of the one hundred or more students were bicultural Cherokee boys seeking to improve their English and gain knowledge of the "three Rs" before entering careers as traders or shopkeepers.
Blackburn confined his activities to fundraising and holding biennial public academic exercises. As part of his "civilizing" mission, however, he urged the Cherokee National Council to adopt laws respecting patrilineal inheritance, private property, solemnized marriage, and other Anglo-American cultural and legal institutions. He became a staunch ally of the powerful acculturationist chief Doublehead, to whom he offered sanctuary shortly before Cherokee nationalists assassinated him in 1807. Deeply shaken by the execution, Blackburn moved the Hiwassee school to safer ground at the abandoned Tellico blockhouse.
In the spring of 1809 the Creeks implicated Blackburn, his brother Samuel, and the Cherokee chiefs John McIntosh and The Ridge in a scheme to illegally ship whiskey through Creek territory to Mobile. The resulting scandal severely damaged Blackburn's reputation and contributed to a brief period of anti-mission sentiment among the Cherokees. In 1810 the minister closed both schools and moved his family to Middle Tennessee.
In the spring of 1811 the Blackburns settled in Franklin, where he became the principal of Harpeth Academy. He continued his work as an itinerant preacher, helping to found five new congregations (including First Church of Nashville) and the Presbytery of West Tennessee and serving as the clerk and moderator of the Tennessee Synod. He also raised a company of volunteers for service under General Andrew Jackson during the Creek War and became a mentor and confidante of Jackson's wife Rachel.
In 1823, perhaps in consequence of financial difficulties in Tennessee, Blackburn moved to Kentucky, where he served as the pastor of the First Church of Louisville (1823-27), the president of Centre College (1827-30), and a minister in Versailles (1830-33). He also advocated African American colonization and became an agent and lecturer for the Kentucky Temperance Society. In 1833, at the request of Edward Beecher, Blackburn moved to Macoupin County, Illinois, where he established two more churches and worked as a financial agent for Illinois College. He also organized a small public land company whose profits were to endow a nonsectarian theological seminary. The Panic of 1837 and protracted litigation delayed the completion and opening of the school (present-day Blackburn College) until 1859. During the winter of 1837-38, Blackburn fell and broke his hip and died the following August at his home in Carlinville, Illinois.
Suggested Reading
William McLoughlin, Cherokees and Missionaries (1984); Walter Posey, The Presbyterian Church in the Old Southwest (1952); V. M. Queener, "Gideon Blackburn," East Tennessee Historical Society Publications 6 (1934): 12-28