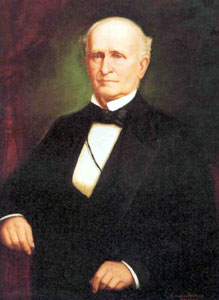 Whig Party leader and Confederate senator Gustavus A. Henry was born in Scott County, Kentucky, on October 8, 1804, to William Henry and Elizabeth Flournoy Henry. He graduated from Transylvania University in Lexington, Kentucky, in 1835 and soon thereafter was admitted to the Kentucky bar, establishing his practice in Hopkinsville. From 1831 to 1833 Henry served in the Kentucky legislature, where he was a stalwart supporter and friend of Henry Clay.
In 1833 Henry married Marion McClure of Clarksville, and within months he moved his practice to this Tennessee river town. By 1835-36 Henry had emerged as a leader of the Whig Party in Montgomery County and strongly supported Whig candidate Hugh Lawson White in the 1836 presidential election. In the 1840 contest Henry was chosen as a Whig elector for William Henry Harrison, and the Clarksville attorney canvassed the state in Harrison's cause. Three years later he ran for U.S. Congress against the popular incumbent Cave Johnson but lost by 228 votes.
A superb orator, Henry continued supporting the Whig cause as a presidential elector in 1844. Seven years later, he returned to political office as a member of the State House of Representatives from 1851 to 1853. His success in promoting the Whig agenda of internal improvements, new banks, and the compromise of 1850 led the party to nominate him for governor in 1853. Henry lost the election to Democrat Andrew Johnson.
The defeat in 1853 was "a turning point in his career." (1) Never again did he run for public office, although he served with distinction in the Confederate Senate for three years in a position selected by the state legislature. Despite the ups and downs in his political life, Henry managed a successful legal career and operated three plantations. After the Civil War he joined the Democratic Party and was chairman of the state convention in 1874. Six years later, in 1880, he died at his Clarksville home, Emerald Hill. He was buried in the Greenwood Cemetery in Clarksville. His Emerald Hill home is now the Alumni Center for Austin Peay State University.