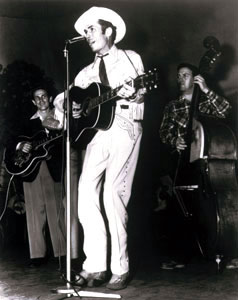 Few entertainers have conveyed the sincerity and realism reflected in Hank Williams's southern working class lyrics and singing style. Even fewer have enjoyed the lanky Alabaman's phenomenal degree of success. His songs permanently etched the nation's consciousness in the brief span of his career; by the age of twenty-nine, he was dead. Yet Williams's six years as a singer and songwriter broadened interest in country music and solidified the Nashville financial interests that produced it.
Born on September 17, 1923, at Mount Olive, Alabama, King Hiram "Hank" Williams seemed destined to spend his life battling poverty, ill health, and family instability. His life story achieved mythical proportions in his struggles with a domineering mother, his relationship with an elderly black street singer, and his conflicts with the ambitious wife he divorced not once, but twice.
Williams's climb to prominence made him a hardened veteran of the rough honky-tonk circuit by the age of twenty-three. He failed his first audition for the Grand Ole Opry. A proclivity for alcohol and his own undependable behavior frequently sidetracked his career. Yet his talent, particularly as a songwriter, proved difficult to ignore. Under the guidance of publishing giant Fred Rose of Nashville, Williams gradually worked his way to superstardom. On June 11, 1949, Williams, armed with a major recording contract, several moderate hits, and a two-year round as the headliner of KWKH's Louisiana Hayride in Shreveport, finally performed at the famed Ryman Auditorium. He received a thunderous ovation for each of his six encores and was immediately added to the Opry roster. Over the next three years, Williams became the nation's most popular country entertainer and the leading star of the Opry.
Financial and artistic success, however, did not soothe Williams's physical and emotional anguish. An untreated congenital birth defect of the lower spine left him stooped and in constant pain. Drugs and alcohol eased his discomfort, but also exacerbated his erratic personality. The Opry consequently fired him in August 1952 for chronic drunkenness, unsatisfactory performances, and conduct detrimental to the show's image. During his attempted comeback, Williams died in the backseat of a chauffeured Cadillac of an apparent heart attack on January 1, 1953. His funeral, in Montgomery, Alabama, attracted a tremendous outpouring of grief from more than twenty-five thousand fans. In death, as in life, Williams brought attention to the ordinary people whose lives rarely resembled the affluence and homogeneity popularly associated with the postwar era.
Suggested Reading
Chet Flippo, Your Cheatin Heart: A Biography of Hank Williams (1981); Roger M. Williams, Sing a Sad Song: The Life of Hank Williams (1973)