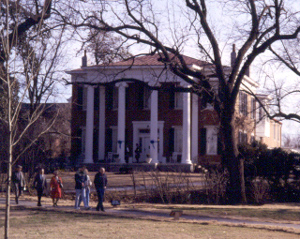 Located on Memphis's historic Beale Street and called the city's "best kept secret," this restored Greek Revival house opened to public tours in the mid-1990s. Completed in 1832 by George Wyatt, the house featured several architectural flourishes, including an escape tunnel. Eli and Julia Driver purchased the house from Jesse Tate in 1850. The couple made improvements, including the addition of a kitchen ell, landscaping, moving the original front portico to the side, and constructing a two-story portico of Ionic columns.
Driver's son-in-law, William Richard Hunt, owned the house through the Civil War. Confederate General Leonidas Polk used the house as his headquarters while he planned the battle at Corinth, Mississippi. Before the fall of Memphis in 1862, Confederate officials provided a boxcar for the removal of family furnishings. Union General Ulysses S. Grant headquartered in the house from June 27 to July 12, 1862, and planned the Vicksburg campaign in the library. Gun emplacements encircled the house, and Union forces used the tunnel to relay messages.
Between 1863 and 1865 the Union's Western Sanitary Commission used the mansion as a soldiers' home and housed Freedmen's Bureau teachers. In 1865 President Andrew Johnson returned the house to Hunt, who began years of repairs.
In the twentieth century the house passed to Stephen Rice Phelan, a Standard Oil geologist. Phelan wrote a history of the house but neglected its maintenance. The house, heavily coated in gray paint and isolated from the surrounding community by barbed wire, padlocks, and weeds, slowly deteriorated.
Bill Day, a nephew of the reclusive Phelan, inherited the house and in the 1990s embarked on an extensive restoration project. Using old photographs and maps, teams of restoration architects and artists worked to return the house to its former glory and reintroduce the Hunt-Phelan house to Memphis. Maintaining the property has proved difficult, however. In 2000 Day auctioned most of its furnishings and papers; in early 2001 the property was on the real estate market, its days as a historic house museum seemingly numbered.