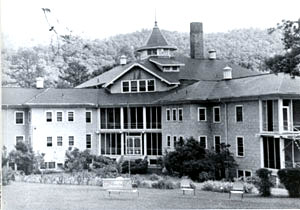 International Printing Pressmen and Assistants' Union (IPPAU) and Pressmen's Home
The International Printing Pressmen and Assistants' Union of North America (IPPAU-NA), was organized in 1889, when disgruntled pressmen and press feeders left the International Typographical Union (ITU) and, with the combined membership of thirteen locals, formed a new pressmen's union. At its peak, with a membership of more than 125,000, the IPPAU-NA became the largest printing trades union in the world.
For sixty-five years the union maintained its headquarters at Pressmen's Home in Hawkins County. The Pressmen's Home Community, located in the mountains of northeastern Tennessee, was a 2,700-acre complex with its own phone system, post office, electrical system, and farm. In addition to its headquarters, the union maintained a retirement home, a sanatorium, and a printing trades school at the site.
The East Tennessee location of the IPPAU-NA headquarters was the dream and accomplishment of George L. Berry, president of the IPPAU-NA from 1907 until his death in 1948. Berry was a dominant and controversial president, and the union's progress and growth were intertwined with Berry's life. The IPPAU-NA moved its headquarters to Pressmen's Home from Cincinnati in 1911 because Berry and the union leadership believed the location (originally a mineral health resort known as Hale Springs) was suitable both as a tuberculosis sanatorium and as a technical trade school for retraining pressmen in the new offset printing methods.
The school eventually became the largest trade school of its kind in the world. While pressmen were also trained on letterpress at the school, its main function was to retrain letterpressmen and educate young printers in the offset craft. The training of thousands of printers at the technical school, along with the correspondence courses the school established, enabled the union to meet the demand for offset printers following World War II.
In 1916 the tuberculosis sanatorium opened and played an important role in combating the disease, the principal cause of death among union members. Besides the physical facilities at Pressmen's Home, the union undertook an extensive campaign to educate the membership about tuberculosis and methods to prevent contamination. By 1961, the year the sanatorium closed, the union facility took credit for saving hundreds of lives through the treatments offered to its members.
In 1966 the union's board of directors decided that the changing times and conditions dictated the removal of the headquarters to a more cosmopolitan location; the following year, the headquarters moved to Washington, D.C. The technical school also closed with the relocation, although the union continued the correspondence courses from its new headquarters.
The IPPAU-NA disappeared from the union registry in 1973, when the union merged with the International Stereotypers', Electrotypers', and Platemakers' Union of North America (ISE&PU) to form the International Printing and Graphic Communications Union (IPGCU). In 1983 the IPGCU merged with the Graphic Arts International Union to become the Graphic Communications International Union (GCIU).
Suggested Reading
Jack Mooney, "The Establishment and Operation of the Technical Training School of the International Printing Pressmen and Assistants Union in Tennessee, 1911-1967," Tennessee Historical Quarterly 48 (1989): 111-22 and "The Sanatorium of the International Printing Pressmen and Assistants Union of North America, 1910-1961, at Pressmens Home, Tennessee," ibid., 162-73