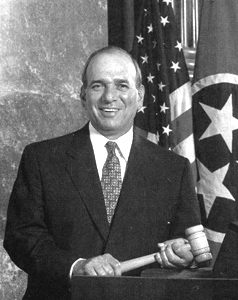 Speaker of the Tennessee House of Representatives James O. Naifeh was born and raised in Covington. He attended local public schools, graduating from Byars Hall High School, and went on to the University of Tennessee, Knoxville, where he took a B.S. degree in 1961. Naifeh next served in the U.S. Army Infantry, with the rank of first lieutenant, from 1962 to 1964.
After his military service was completed, Naifeh returned to Covington and entered the grocery business and other retail concerns. Taking an active role in local and regional economic development, he has served as president of the Covington/Tipton County Chamber of Commerce and the Covington Rotary Club as well as serving on the boards of First State Bank of Covington, the Tennessee Wholesale Grocers, ALSAC-St. Jude Children's Research Hospital, and other institutions.
Naifeh's state political career began in 1974 when he successfully campaigned for the Eighty-first District seat in the Tennessee House of Representatives. Since 1975 he has continuously served that district, compiling a twenty-six-year record of achievement and leadership. He was past chair of the House Ethics and House Rules committees; the Democratic majority floor leader during the Ninetieth through Ninety-third General Assemblies; and the Democratic majority leader from the Ninety-fourth through Ninety-sixth General Assemblies. He has served as Speaker from the Ninety-seventh General Assembly to the present.
Many different agencies and institutions have commended Naifeh for his legislative record. In 1990 he received the NCSL Leadership Award and the Caribe Award from the Tennessee State Employees Association. In 1993 he was awarded the Harry Burn Award. Several statewide organizations have honored Naifeh as Tennessee Legislator of the Year, and the Tennessee Women's Political Caucus named him the first recipient of its "Good Guys" Award.