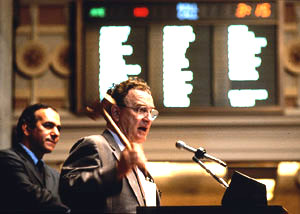 Speaker of the Senate and Lieutenant Governor John S. Wilder was born in Fayette County in 1921. He attended the public schools of Fayette County, then went to college, majoring in agriculture at the University of Tennessee, Knoxville. His law degree is from Memphis State University (now University of Memphis) Law School.
In 1959 Wilder entered state politics and was elected to the state Senate. During the 1960-61 boycott in Fayette County directed at local African American tenant farmers, Wilder, unlike many of his neighbors, refused to punish black tenants by evicting them or calling in crop loans. This courageous stand temporarily impeded his political career, but in 1966 he was elected to another two-year term in the Senate and won his first four-year Senate term in 1968. He has served as a distinguished member of that body from the Eighty-fifth through the 102nd General Assemblies and has served sixteen consecutive terms as Speaker of the Senate and lieutenant governor of the State of Tennessee.
Wilder has been a member of many state, regional, and national commissions, associations, and committees. Some of these include the Southern Legislative Conference Executive Committee, Tennessee Industrial and Agricultural Development Commission, Tennessee Judicial Council, Tennessee Bar Association, and National Conference of State Legislatures Legislative Leaders. He was also vice-chair of the State Building Commission. In addition to his legislative work, Lieutenant Governor Wilder has an active business career as director of Health Management, Inc., and Cumberland Savings Bank; chairman of the board of Cumberland Bank Shares and First Federal Bank FSI Holding Company; and in the management of Longtown Supply Co., a family business founded in 1887. He is also a Fayette County farmer and an avid aviator. Wilder married the former Marcelle Morton of Williston; they live in Fayette County and are active in the Methodist Church.