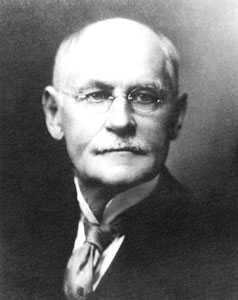 John Trotwood (1858-1929) and Mary Daniel Moore (1875-1957)
When appointed as state librarian and archivist in March 1919 by Governor Albert H. Roberts, John Trotwood Moore was best known as a man of letters. A native of Marion, Alabama, he moved to Maury County, Tennessee, in 1885 where he became interested in writing. Over time, the theme of his work shifted from thoroughbred horses and hunting dogs to historical figures and events. His fascination with Andrew Jackson inspired a related interest in collecting original Jackson manuscripts, which eventually led to the publication of Hearts of Hickory (1926). After moving to Nashville in 1906, he collaborated with Senator Robert L. Taylor in publishing the Taylor-Trotwood Magazine that was continued until 1911. Although The Bishop of Cottontown (1906) is regarded as his best literary effort, his four-volume Tennessee: The Volunteer State (1923) was a useful reference for historical research.
Moore's success while state librarian and archivist in collecting historical documents was enhanced by the development of a Civil War questionnaire sent out to some 5,000 former soldiers and returned by 1,650 veterans. Through the Tennessee History Committee, records of Tennessee veterans of the World War were also collected. The crowning achievement of his efforts was the addition of the collection of the Tennessee Historical Society to the holdings of the Library and Archives.
Following the death of his first spouse, Florence W. Allen, John Trotwood Moore married Mary Brown Daniel, a native of Harrisonville, Missouri, in 1900. Mary Daniel Moore was proficient in the daily operations of the State Library and Archives and shared her husband's understanding and interest in the collection and preservation of historical materials. The Moores worked well together as a team. From the time of John Trotwood Moore's death in May 1929, Mary Moore continued in this work until her retirement as state librarian and archivist in 1949.
In the collection of historical materials, Mary Moore worked closely with historical, archival, and patriotic societies and participated in the Historical Records Survey programs of the Works Progress Administration during 1935-42. In addition, Moore contributed substantially to the understanding of Tennessee history through the publication of a number of articles in the Tennessee Historical Quarterly between 1944 and 1956.
Although delayed until 1947, final funding approval for the construction of an appropriate building for the State Library and Archives remains the hallmark of the Moore era in Tennessee. On June 17, 1953, the new State Library and Archives Building was dedicated as a memorial to Tennesseans who had served in World War II.
The Moore years were a period of significant archival achievement. The archives program was recognized as a vital component of state government; records were made accessible to the public; the state assumed responsibility for preserving the rich holdings of the Tennessee Historical Society; and finally, steps were taken to construct a permanent archival facility for housing the permanent value records of the State of Tennessee.
Suggested Reading
John H. Thweatt, "The Archival Tradition in Tennessee–The Moore Years," Tennessee Historical Quarterly 50 (1991): 152-56