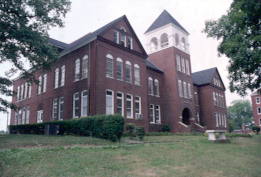 Immediately after the Civil War, scores of northern missionaries traveled south to educate the newly freed slaves. These missionary efforts resulted in the establishment of a number of black colleges and universities. One of these schools was Knoxville College, a small liberal arts college established by the Presbyterians in Knoxville. These early schools often offered elementary and high school programs to prepare their students for college work. Although hardships and setbacks have punctuated the its more than 120-year history, Knoxville College has managed to provide quality education to generations of African Americans who would have had few educational opportunities otherwise.
The first Presbyterian missionaries centered their efforts in Tennessee on Nashville, but by 1875 competition from other denominations had influenced the decision of the Freedmen's Board of the United Presbyterian Church to move their operation to Knoxville. The relocated school received its first permanent building in 1876, and in 1877 it was designated as a college. During that same year, the Freedmen's Board of the United Presbyterian Church appointed Dr. John S. McCulloch, a white Presbyterian minister, as president of the new Knoxville College. McCulloch was quite surprised to learn that the new freedmen's school had been designated a college, and after his first view of the campus he had serious doubts about the accuracy of such a designation. He lamented, "What a wilderness the college grounds appeared." (1) At the same time, the institution's first "college" students were a little uncertain about exactly what a college was; they were fiercely proud, however. One recalled, "we had quite a vague conception of the scope of the word college . . . [but] when asked what school we attended we somewhat proudly replied, 'out to the college.'" (2)
Despite such tentative beginnings, Knoxville College steadily expanded its student body, its facilities, and its curriculum in the waning years of the nineteenth century. Along with its college courses in the normal, theological, classical, scientific, and industrial departments, the college established a medical department in 1895. A number of this department's graduates went on to become practicing physicians, but in 1900 mounting expenses forced the Freedmen's Board to discontinue the medical department.
The firm academic foundation built in the nineteenth century served the college well in the twentieth century. Through two world wars, the Great Depression, the Civil Rights movement, and the new challenges posed by the post-integration era, Knoxville College has continued to pursue its mission of providing a quality liberal arts education to African American students. As the school faces the twenty-first century, it continues to be plagued by extremely difficult financial challenges. In meeting these challenges, Knoxville College has developed increasing support from the local business community, and it continues to attract black students from all over the South and the nation.