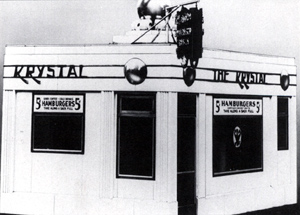 This Chattanooga-based hamburger chain was founded in 1932 by Rodolph B. Davenport Jr. and J. Glenn Sherrill. Loosely patterned after the successful midwestern White Castle hamburger chain which had begun in 1921 in Wichita, Kansas, Krystal capitalized on the economic hard times of the era by offering customers nickel hamburgers and "a good cup of coffee." Its steamed, small, square hamburger covered with chopped onions has become part of southern culinary lore.
The first restaurant was a small white porcelain and stainless steel building at the corner of Seventh and Cherry Streets in Chattanooga. Mrs. Mary McGee Davenport selected the company name after noticing a crystal ball on a neighbor's lawn. The name she chose, "Krystal Klean," reflected the cleanliness of the restaurant; the name was later shortened to Krystal. A crystal ball became a symbol outside all Krystal restaurants.
Davenport served as company president until his death in 1943, when he was succeeded by his partner, Sherrill, who served until 1961. R. B. Davenport III, son of the founder, succeeded Sherrill as president, remaining until his resignation in 1990. The appearance of Krystal restaurants has changed over the years. Drive-through windows were added, and smaller versions called Krystal Kwiks, with limited menus and drive-through service only, have become popular in locations unable to sustain a full-sized restaurant. The menu has expanded beyond the Krystal burger and a cup of coffee, but the little square hamburger remains a keystone in the company's success.
In 1982 Krystal acquired the Po Folks restaurant chain, later spinning off the chain as a separate company. Krystal also became the largest franchisee of Wendy's Restaurants. In 1992 Krystal issued stock and became a publicly traded company, ending its claim as the nation's largest privately held restaurant chain. The company filed for bankruptcy reorganization in 1995 as a result of mounting claims of lawsuits from current and former employees involving overtime pay. In 1997 the Krystal Company announced a merger of its 250 stores with Port Royal Holdings, a corporation formed by an executive of the Coca-Cola Enterprises.