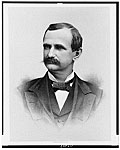 Leonidas C. Houk, congressman and judge, was born near Boyds Creek, Sevier County. The death of his father in 1839 left him and his mother impoverished. His formal education consisted of only a few months at a country school; thereafter, he educated himself through diligent reading. As a youth he earned a living as a cabinetmaker and Methodist preacher while studying law at night. In 1859 he was admitted to the Tennessee bar and opened an office in Clinton. A Union loyalist at the outbreak of the Civil War and member of the Union convention in East Tennessee in 1861, Houk organized the First Tennessee Infantry, which functioned as a Union army in Kentucky. He served as a private, lieutenant, and quartermaster; in 1862 he was colonel of the Third Regiment, Tennessee Volunteer Infantry. Poor health forced him to leave military service in 1863, and he spent the next two years following military activities and writing pro-Union articles for the press. A presidential elector in 1864 for the Lincoln-Johnson ticket, he participated in the state constitutional convention in 1865 to reorganize Tennessee's postwar government. There he took a moderate stand on issues and won recognition for his ability.
From 1866 to 1870 Houk served as circuit judge of the state's Seventeenth Judicial District. In this capacity he favored equal rights for former Confederates and refused to hear cases of treason, contending that Tennessee had ceased to exist as a state when it left the Union in 1861. Despite his moderation in some cases, he issued decidedly partisan opinions in others. After resigning his judgeship, Houk edited the Knoxville Daily Chronicle, practiced law in Knoxville with Henry R. Gibson, who later founded the Knoxville Republican, represented his district in the state legislature, and served in Congress. Gibson and Houk became one of the most prominent law firms in East Tennessee. Both men also remained politically active.
Houk was devoted to the Republican Party. He loyally supported Ulysses S. Grant for president in 1868 and 1872, even favoring him as a Stalwart for a third nomination in 1880. Houk served as a presidential elector in 1872 and 1876; he was a delegate to virtually every national Republican convention in the postwar years. A member of the Southern Claims Commission in 1873, he served in the Tennessee House from 1873 to 1875. There he sponsored a state school law and chaired the ways and means committee.
In 1878 Houk won election to the U.S. House of Representatives, where he remained until his death. A nationalist Republican who followed party doctrine, Houk was a southern representative who showed more concern for the plight of poor farmers and agricultural depressions than many of his northern urban Republican colleagues.
Houk married twice. In 1858 he married Elizabeth M. Smith, by whom he had eight children. After his first wife's death in 1879, he married Mary Belle Von Rosen in Baltimore in 1880. They had one daughter. Houk died in Knoxville on May 25, 1891, and was buried in Old Gray Cemetery. Houk's papers are in the McClung Historical Collection, Lawson McGhee Library, Knox County Public Library, Knoxville.
Suggested Reading
Verton M. Queener, "The East Tennessee Republicans in State and Nation, 1870-1900," Tennessee Historical Quarterly 2 (1943): 99-128