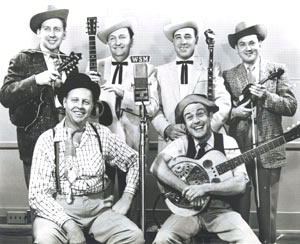 Tenor and guitarist Lester Flatt is best know as half of the famous duo Flatt and Scruggs, credited for pioneering and popularizing bluegrass music. Born in rural Overton County, Flatt moved with his family to Sparta in White County when he was nine years old.
Flatt began his musical career in 1941 as a singer on station WBBB in North Carolina and then performed country, folk, and gospel music with Charlie Monroe and the KY Pardners. Two years later Flatt and Earl Scruggs joined Charlie's brother, Bill Monroe, and his group, the Bluegrass Boys, considered by many to have been the first true bluegrass band. Bill Monroe, already a star on the Grand Ole Opry, found Flatt's vocals and Scruggs's lightning-fast, three-finger banjo style perfect for making his sound distinctive from country music. In 1948 Flatt and Scruggs formed their own partnership, the Foggy Mountain Boys, and continued to perform for more than two decades. The genre of bluegrass music is based upon recordings by Flatt and Scruggs and Bill Monroe's recordings, with and without Flatt and Scruggs, during the late 1940s and 1950s.
Flatt and Scruggs created a new audience for bluegrass music in the 1960s with the version of "Foggy Mountain Breakdown" they recorded for the soundtrack of the film Bonnie and Clyde and "The Ballad of Jed Clampett," the theme song for the Beverly Hillbillies television show. The Foggy Mountain Boys enjoyed performing in locations as diverse as college campuses and Carnegie Hall. The duo were members of the Grand Ole Opry and the Country Music Hall of Fame. Flatt often sang commercials for Martha White Flour, which sponsored the group's morning radio show on WSM.
In 1969 Flatt and Scruggs disbanded, and Flatt formed his own band, the Nashville Grass. One of his band's members was Marty Stuart, a current country music and Grand Ole Opry star who maintains a valuable collection of costumes and artifacts from earlier country music performers.