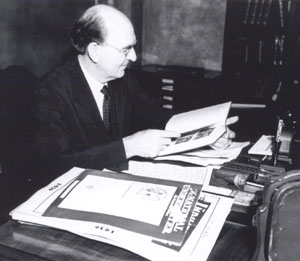 Life and Casualty Insurance Company
Established by Andrew M. Burton, Guilford Dudley Sr., Helena Haralson, Dr. J. C. Franklin, and Pat M. Estes in Nashville in 1903, Life and Casualty Insurance Company initially offered industrial (health and accident) insurance to working-class blacks and later concentrated on ordinary life insurance to middle-class whites. Together with the rival National Life and Accident Insurance Company, Life and Casualty (L&C) made Nashville one of the South's leading insurance centers during the middle decades of the twentieth century. In 1963, for instance, financier Sam Fleming described Nashville as "more like Hartford Connecticut than any other city I know. It is hard to meet very many people here before you run into someone connected with an insurance company." (1)
Andrew M. Burton, company president, established and managed L&C as a family enterprise even as it expanded its market share throughout the South and later the nation. In 1909 L&C salesmen entered Mississippi, and they had made inroads into Louisiana by 1911 and Arkansas and South Carolina by 1913. During World War I, in 1918, L&C established offices in Florida and North Carolina, and followed with offices in Kentucky in 1922 and Missouri in 1923.
Due to increased competition from black-founded insurance companies and the growing popularity of life insurance during the 1920s, L&C began to move away from its earlier reliance on industrial insurance for blacks. In 1927 company officials announced the goal of creating a "Lily White Company" which specialized in ordinary life insurance for white middle-class customers. As part of its new marketing strategy, L&C acquired a radio station, WDAD, in 1926. Through the airwaves, L&C advocated a gospel of thrift, with one 1926 effort aimed at convincing fifty thousand children to establish a dollar-a-week savings account. Within two years, the station's name had changed to WLAC, and its five-thousand-watt signal reached much of the Mid-South. The company's strategic shift in market emphasis worked. In 1938 the company set the goal of reaching one billion dollars of insurance in force. It had achieved that goal by 1953, three years after Burton's retirement to his Nashville home.
Paul Mountcastle was company president from 1950 to 1952, when he was promoted to chairman of the board. His successor as president was Guilford Dudley Jr., son of one of the company's founders. Mountcastle and Dudley aggressively expanded L&C's horizons. The company had been among the state's pioneers in radio with its powerful WLAC station. In 1954, to complement the radio station, L&C acquired a television station, WLAC-TV, an affiliate of the CBS network. Three years later, Mountcastle and Dudley presided over the grand opening of the splashy Life and Casualty Tower, a modernist Nashville skyscraper designed by architect Edwin Keeble that became an instant corporate and city landmark. The thirty-one-story, seven-million-dollar structure was the tallest commercial building then in the Southeast. As architect Keeble explained in the Nashville Tennessean of April 28, 1957, the tower "speaks as pleasantly as possible, with dignity and repose, of its purpose in the service of one of Nashville's greatest institutions." By 1961 L&C had over two billion dollars of insurance in force.
The Mountcastle/Dudley years, however, also witnessed sales of company stock to wealthy investors from outside of Tennessee. Texas oilman Clent W. Murchison, later the owner of the Dallas Cowboys, bought $40 million in stock, roughly 24 percent of the company, in 1959. Dudley remained as company president until 1969, when Murchison's American General Group acquired control of the L&C. American General reorganized L&C's Nashville operations as a central headquarters for several of its associated companies in the region. Allan Steele, former general counsel, was named L&C president in 1970, ending the Dudley era as well as L&C's independent influence on the economies of Nashville and Tennessee.
[Notice to Life and Casualty policy holders: The Tennessee Historical Society has no connection to this company and cannot provide information on your policy. For claims click on this link: American General Life Assurance.]