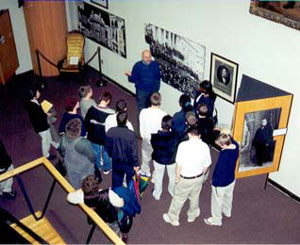 Lincoln Memorial University
In 1897 the Reverend Arthur A. Myers, his wife Ellen, and General O. O. Howard founded a mountain school that expanded to become an accredited four-year institution, Lincoln Memorial University. Supported by the American Missionary Association, the Reverend and Mrs. Myers arrived in Cumberland Gap, Tennessee, in 1888. They began construction of a Congregational Church and school just as New South economic development collapsed in the area surrounding the Gap. Soon the Myers moved their Harrow School into one of the bankrupt hotels in Cumberland Gap. In 1895, hearing that the "Christian General" and former head of the Freedmen's Bureau, O. O. Howard, would speak in Chattanooga, Myers arranged for Howard to speak at Harrow School's commencement. Following the ceremony, Myers took General Howard to the site of another postwar bankruptcy and impressed the visitor with his dream of a larger school on a six-hundred-acre former plantation. As Howard recalled his last conversation with Abraham Lincoln and the president's desire to reward East Tennessee mountaineers for their support of the Union, he vowed to make the school a living memorial to the slain president. School brochures reflected Howard's desire "to pay our country's debt to these Highlanders of America by educating the children of the G.A.R. on slave soil." The school offered a broad range of studies, from classical Greek and Latin to medicine and farm management.
Donations of Civil War and Lincoln memorabilia by General Howard and his friends form the core of artifacts and books housed today in the Abraham Lincoln Museum. The museum sponsors exhibits and symposiums and hosts visiting scholars and researchers from around the world. The modern, private, independent, nonsectarian campus in a rural setting welcomes students from many states and foreign countries who receive a liberal arts education. New classroom buildings, a large athletic arena, the library and resource center, an auditorium, and dormitories now occupy the campus. Among its ten thousand alumni are three thousand Japanese students. The university is also the home of the J. Frank White Academy, a selective private college preparatory school for grades seven through twelve. The television station and computer science department connect Lincoln Memorial University to a world undreamed by Reverend Myers and General Howard in 1897, but a spirit of cooperation infuses today's students with the same enthusiasm and dedication as the students of the nineteenth century experienced when they first joined the blue and gray at Lincoln Memorial University.