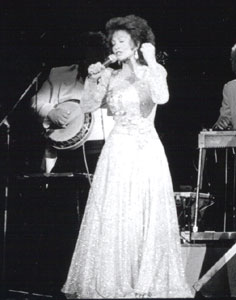 Influential female country music performer and songwriter and member of the Country Music Hall of Fame Loretta Lynn was born in Johnson County, Kentucky, in 1935. She married Oliver V. "Mooney" Lynn in 1948, and soon thereafter the Lynns moved to Washington State. By the late 1950s, Lynn had begun her musical career, performing at local clubs. In 1960 Buck Owens booked her on his popular radio show produced at Tacoma, Washington, and Zero Records, based at nearby Vancouver, British Columbia, recorded and released her first single, "I'm A Honky Tonk Girl."
The song became a hit, and in 1961 Lynn landed her first appearances on Ernest Tubb's influential Midnight Jamboree radio program on WSM as well as on the Grand Ole Opry in Nashville, appearing on the Opry for seventeen consecutive weeks before becoming a regular cast member. Kitty Wells and especially Patsy Cline influenced Lynn's development as an Opry star. Since 1961 Lynn has been a Tennessee resident, living first in Nashville before acquiring twelve hundred acres at Hurricane Mills in Humphreys County in 1966. There she and Mooney Lynn established their home and later the Loretta Lynn Dude Ranch, which has been a popular tourist destination from the 1970s to the present.
Lynn has significantly influenced country music, not only as a performer and songwriter, but also as a role model for the women artists who have followed in her footsteps. Named to the Country Music Hall of Fame in 1988, she became the first woman to win the Living Legend Award of the Country Music Association in 1997. The zenith of her career was during the 1970s. In 1972 Lynn was the first woman to be named "Entertainer of the Year" by the Country Music Association. Her autobiography, Coal Miner's Daughter (1976), became a best-seller and later an award-winning movie. During the decade, she also won seventeen "Female Vocalist of the Year" awards from various institutions and was named the "Artist of the Decade" by the Academy of Country Music in 1979.
Although the number of Lynn's recordings and performances has diminished from her height of popularity in the 1970s, classic songs such as "You Ain't Woman Enough" about women of strength and emotion endure and continue to influence such recent women writers and performers as Nanci Griffith and Mary Chapin Carpenter.