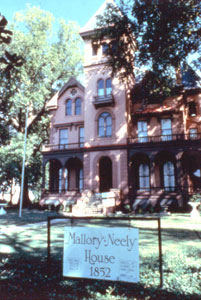 Located at 652 Adams Avenue in the Victorian Village historic district of Memphis, the Mallory-Neely House is a splendid example of the Italian villa architectural style. Constructed in 1852 for banker Isaac Kirtland and his family, the house later became the home of the Babb, Neely, Mallory, and Grant families. From 1864 to 1883 it was the residence of cotton factor Benjamin Babb. In 1883 another cotton factor, James Columbus Neely, purchased the house and lived there with his wife Frances and their five children. The Neelys' youngest daughter, Daisy, who married cotton factor Barton Lee Mallory in 1900, returned to the mansion with her husband, where they raised their three children, William Neely and twins, Barton Lee and Frances. Daisy's sister, Pearl Neely Grant, also resided there with her family for a time.
The Neelys renovated the house extensively during the 1880s and 1890s. The two-and-one-half-story house was expanded into three full floors, and the central tower was enlarged, creating a twenty-five-room, sixteen-thousand-square-foot mansion. The family redecorated it in high Victorian style featuring ceiling stenciling, ornamental plasterwork, faux grained woodwork, heavily carved etagere mantelpieces, and parquet flooring. The uniqueness of the Mallory-Neely House is its remarkable state of preservation; with much of the late nineteenth century decor intact, the house provides valuable insights into Victorian social customs. Most of the eclectic, turn-of-the-century furnishings are original. Stained glass windows from the Neely family's visit to the Columbian Exposition in Chicago in 1893, exquisite pieces brought from the Chinese exhibit at the Louisiana Purchase Exposition in St. Louis in 1903-4, and paintings, sculpture, and decorative objects from world travels still enhance the entrance hall, parlor, dining room, and library of the house.
Barton Mallory died in 1938, but his widow, Daisy Neely Mallory, remained in the residence until her death in 1969 at the age of ninety-eight. Daisy Mallory wanted the house to be preserved as a museum, and in 1972 her family deeded the mansion and its furnishings to the Daughters, Sons, and Children of the American Revolution. Since 1987 the house has been operated by the Memphis Park Commission and Memphis Museums, Inc., as a facility of the Memphis Museum System. The Mallory-Neely House is listed on the National Register of Historic Places.