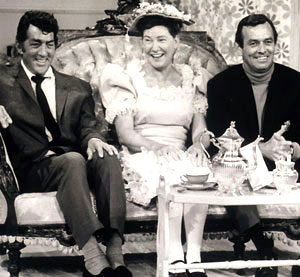 Though arguably the most recognizable person in the history of country music, Sarah Ophelia Colley Cannon's name was never a household word. It was her alter ego, Minnie Pearl, with her frilly dresses, hat with dangling price tag, and shrill greeting, "Howdee! I'm just so proud to be here!" who received the attention.
Sarah Colley was born to a prosperous family in Centerville on October 25, 1912. Though the family suffered financial losses in the Great Depression, they sent Sarah to Ward-Belmont, a prestigious finishing school in Nashville, where she majored in expression. After graduation she taught dance, dramatics, and piano to local children in Centerville, but longed for a serious acting career. In 1934 she began to work for William P. Sewell, founder of a theater company that sent teams of field workers throughout the South to organize local dramatic productions. Colley soon became director of Sewell's school, training other field producers. While producing a play in Sand Mountain, Alabama, Colley met the woman who changed her life.
Stuck without lodging arrangements, Colley accepted an invitation from a kind mountain woman to share her family's small cabin. The woman, who Colley later credited as the inspiration for Minnie Pearl, impressed the would-be actress with her humorous view of life. Her droll stories and impeccable timing affected Colley deeply. Soon after she left the woman's home, Colley began repeating the stories and eventually performed them in character.
After seeing her perform at a Lions Club event, WSM-Radio program director Harry Stone offered her a Grand Ole Opry audition. Soon "Minnie Pearl" was traveling with Roy Acuff's tent show. When Colley turned out to be less than the seasoned performer Acuff assumed she was, he dismissed her. More determined than ever to develop a strong comic character, Colley transformed Minnie into a man-crazy country girl with a whole cast of characters who provided material for gossip from her fictional home town of Grinder's Switch. She became a Grand Ole Opry favorite and remained so for over fifty years.
Offstage, Colley married Army Air Corps pilot Captain Henry Cannon in 1947, and he devoted himself to her career. At his request, she temporarily stopped traveling with the Opry road shows and dedicated her extra time to charities such as Vanderbilt Children's Hospital, the National Heart Association, and the American Cancer Society. Through her involvement, Sarah Cannon also managed to smooth a rift that existed between Nashville society and the country music industry. The social elite were not thrilled to see the "Athens of the South" transformed into "Hillbilly Heaven." Cannon managed to move between the two communities, offending neither. In addition to many humanitarian awards, Cannon was inducted into the Country Music Hall of Fame in 1975 and received a National Medal of the Arts in 1991.
In 1985 Cannon was diagnosed with breast cancer, and after undergoing a double mastectomy, devoted her time to education and counseling. In 1991 Centennial Medical Center dedicated its cancer unit to her name. Cannon continued to perform as Minnie Pearl on the Grand Ole Opry and the television programs Hee Haw and Nashville Now, until she suffered a stroke in June 1991. She died March 3, 1996. A tireless entertainer and philanthropist, "Minnie Pearl" remains one of America's most beloved entertainers.