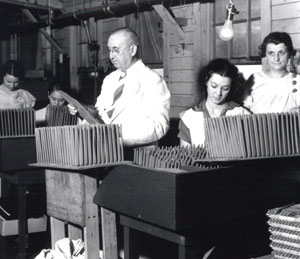 Commonplace but enduring, the wood-cased pencil industry ventured onto the Tennessee industrial landscape in the first quarter of the twentieth century. The industry took advantage of the state's ubiquitous and prolific red cedar and a recycling scheme that exchanged cedar rail fences for modern wire equivalents. James Raford Musgrave sent out crews to trade and install new wire and pole fences for the old cedar rails. On some exceptionally large tracts, Musgrave's representatives purchased rails. Already dry, weathered, and pristine for the purpose, the cedar rails were perfect for cutting into pencil slats at the Shelbyville mill. The milled slats then went from Shelbyville to German manufacturers such as Faber.
When World War I interfered with the exchange of goods, Musgrave turned to the close-knit American pencil manufacturers to market his slats. In 1919 the Pencil Makers Association organized to represent and unify the industry. This action promoted an exchange of raw material and technology within the domestic market. Musgrave brought a German machinist to Shelbyville and used his expertise to continue the transformation of his mill to encompass the entire operation of pencil manufacturing. As the Tennessee sources of red cedar logs and rail fences disappeared, the California Incense Cedar–a fast growing, plentiful wood with similar characteristics to the Tennessee variety–replaced it. By the time of the Great Depression, the Shelbyville company not only made its own pencils, but J. R. Musgrave had nurtured the establishment of other local pencil manufacturers as well as the specialty advertising imprinting industry. During World War II many women went to work in the pencil factory.
Situated in a designated industrial neighborhood near the original Bedford County Fairgrounds, Musgrave Pencil Company became the workplace of generations of millhands. In recognition of its exceptional contributions to the pencil industry and the economic growth of the community and state, Governor Buford Ellington named Shelbyville the "Pencil City" in the 1950s.
Today, production focuses on a quality wood-cased writing instrument for schools, offices, and specialty advertising. Recent additions to the line include the Musgrave Designer pencil, with glitz and sparkle for holidays, and messages and colors for the "techno" generation. Harvest Packaging was created for packaging multiple production items. A Tennessee product, the Musgrave pencil is a result of commitment at all levels from materials to management.